Samsung Galaxy S II USA Launch Upgrades Rundown [Video]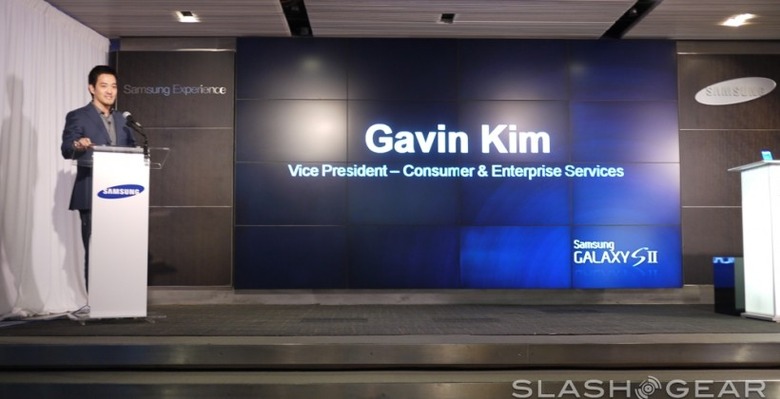 We have Samsung's Vice President of Consumer & Enterprise Services Gavin Kim to thank for the full rundown of the Samsung Galaxy S II's full new features rundown, all of it presented by him on his very own Galaxy S II device through its MHL (Mobile High-definition Link) port made capable of sending out a mirrored-display through a normal, everyday HDMI cable. You may remember the same functionality from the Infuse 4G, a device which was in many ways the herald of the Samsung Galaxy S II as it's officially announced today. What Kim has for us on stage in NYC at the GSII big reveal event is a look at everything you should expect from the three announced devices today as they compare to the original GSII released a few months ago internationally.
Kim lets us know that the Galaxy S II series in the USA will indeed be running the newest version of Samsung TouchWiz UI, this, for those of you that don't know, is a set of enhancements Samsung has added on top of Android so that their devices work in the way they see as most positive for the end user. What you'll find is the Kim tells us about, first of all, the new cleanliness of TouchWiz, a brand new set of abilities you've got as far as resizing widgets, moving app icons to the pages you want, and even re-organizing your apps drawer to the order you like best.
One of the greatest things you're going to find going on in this newest version of TouchWiz is a set of customizability options that up until now you'd have had to go to a 3rd party developer to get through a homescreen replacement app. If you have no idea what a homescreen replacement app is, you're going to be EXTRA pleased by your ability to arrange your homescreens and app drawer the way you want it.
[VMS 8ca8133fa24680a88d2f]
Kim also goes into Samsung's Social Hub app briefly, showing us that we're able to aggregate all of our social networks into a single feed list, each item able to be accessed at will. One single inbox for all of your social interaction. You can also view messages from social contacts in Conversation View allowing you to differentiate your exchanges from other friends and foes of yours, and Kim reminds us that Social Hub is included on every one of the different versions of the Galaxy S II as well.
Have a peek at the video and stay tuned to our [Galaxy S II] and [Samsung] hubs for more news galore this whole week – that's right, we're in Berlin as well for Samsung's Unpacked event at IFA 2011 aus Deutschland – join us live as we broadcast on site!