Samsung Galaxy Note vs Tab 7.7 vs Galaxy S II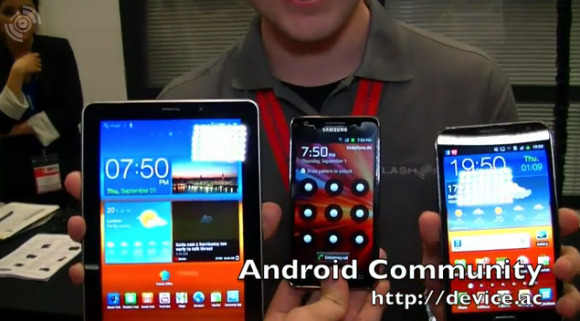 This week at IFA 2011 in Berlin we've been given the opportunity have quite a few hands-on looks at products from a handful of vendors, but it's the Samsung stand that's got us most interested as their newest line of products are so very comparable to one another. This week revealed to us two brand new devices, that being the Samsung Galaxy Tab 7.7 and the Samsung Galaxy Note, the former being the next tablet device in the Galaxy Tab line, the latter being what Samsung is describing as the perfect half-way point between smartphone and tablet. Then there's the Samsung Galaxy S II as it exists on the international market right this second. How do they all compare?
The first thing you should be noting whilst comparing the Galaxy Note and the Tab 7.7 is that they've both got a 1280 x 800 pixel resolution AMOLED display, the different between then being the size of the screen, (7.7-inches on the Tab 7.7 and 5.3-inches on the Note), and the name Samsung gives each of their displays: the 7.7 has what Samsung calls a Super AMOLED Plus display while the Note has what Samsung calls an HD Super AMOLED. Because both of these devices have the same number of pixels across different size screens, the Galaxy Note wins out with 285ppi, or pixels per inch.
[vms a4cc25076f3d868e1bdf]
Both of these larger devices are able to offer both voice and data connectivity, in this case meaning you can use the pair of them like smartphones in every respect. This means holding these relatively large devices up to the side of your head like your average cellphone, perhaps looking foolish in the process.
Galaxy Tab 7.7
The newest member of the Galaxy Tab family has a fully aluminum chassis, a 7-inch display, 3G HSPA+ connectivity, and is both small enough to place in your pocket (if you've got a bit pocket, that is,) and large enough to play all your favorite bigtime dual-core games. You've got a powerful 1.4 GHz dual-core processor under the hood, and with such a tablet comes the ability to avoid the slightly larger and perhaps, dare I say, more cumbersome Galaxy Tab 10.1 or the upcoming 8.9. Check out our hands-on post from IFA 2011 for a closer look at the device.
Samsung Galaxy Tab 7.7 hands-on:
[vms 6f24efd9395aa7662bc7]
Galaxy Note
Samsung presents this next-generation device whom they've dubbed the king of the new size, that being a perfect point between tablet and smartphone. This device has, again, the same resolution display as the Galaxy Tab 7.7, but it's got a 5.3-inch panel displaying it so it's much more sharp and brilliant. You've also got a pen stylus that's able to sit inside the device while you're not using it, a "silo" if you will for convenient carrying on the go. This device represents a new generation, if Samsung has their way, and has the potential to swallow up a market that hasn't yet even really been addressed anywhere in the world in the history of mobile connectedness. Check out our Galaxy Note hands-on post from IFA 2011 for a closer look at the device in its current form.
Samsung Galaxy Note hands-on:
[vms af599e06ad9bf1ba03cb]
Compared
Each of these devices have a massive battery capable of more than a day's worth of work. Each of these devices is capable of acting like a smartphone, with both mobile data and voice, and if you'd like to hold them up to your head to make a traditional looking phone call, you can certainly do that. Have a look and Chris Davies doing so here, first with the Galaxy Note: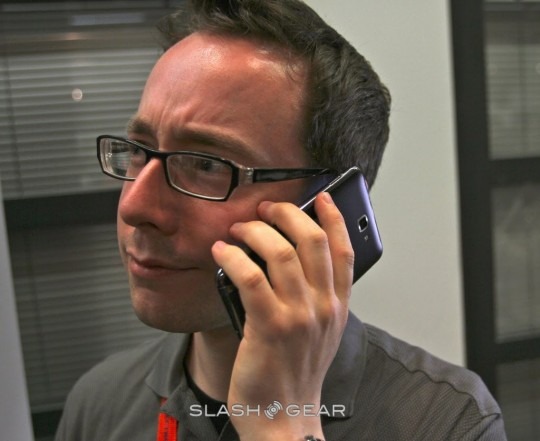 Then with the Galaxy Tab 7.7: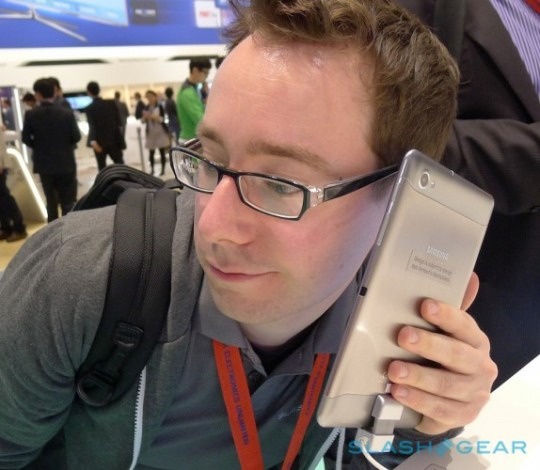 Looks nice, yes?
Now you've got the choice between the three, right? Not necessarily. Each of these devices has the ability to act in a unique way, working with you to connect you to the mobile internet at all times of the day. Each of these devices has one of the most brilliantly bright and sharp displays in the world, and they're all running Samsung's unique version of TouchWiz, slightly different for each of them, over the top of the most updated version of stock Android.
You could have the choice between these devices, but you might as well go ahead and buy all three, right? Not so fast. What Samsung has done here with the Galaxy Note in particular is to challenge the idea that you need more than one device. They say they're challenging you to only use this singular device, but you know good and well that if one of these devices seems enticing to you, they all do to some degree or another.
We shall see how they all sell (and continue to sell) in the near future.