Samsung Galaxy Note II Review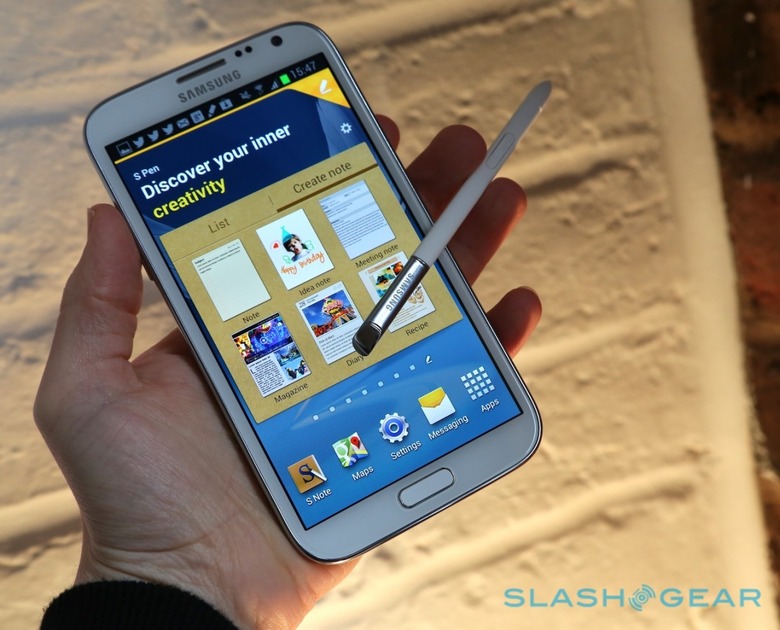 Samsung's new Galaxy Note II arrives with some heritage to explain it, though a 5.5-inch smartphone can still take some explaining. After its first-gen predecessor blustered its way into a new segment – known by some and loathed by others as "phablets" – the new model tweaks the formulae some, boosting performance, smoothing the design, and polishing the digital pen elements that help set it apart from the smartphone crowd. So, if the original Galaxy Note eventually answered the question "will it sell?" can the Samsung Galaxy Note II convince us that it's a worthwhile upgrade? Read on for the full SlashGear review.
Hardware
Though twelve months old, the first Galaxy Note still doesn't look too shabby in terms of specifications, and so the Note II generally tightens up the package and polishes off any glaringly rough edges. Design-wise, it's now more akin to the Galaxy S III – all curves and fake chrome edges – than the model it replaces, and side-by-side the pair are obviously from the same family. At 80.5 x 151.1 x 9.4 mm and 182.5g, it's slightly longer and heavier than the first Note, though also narrower and thinner; slimmer bezels have meant Samsung can fit a bigger display despite the only moderate size changes, now at 5.5-inches rather than 5.3-inches.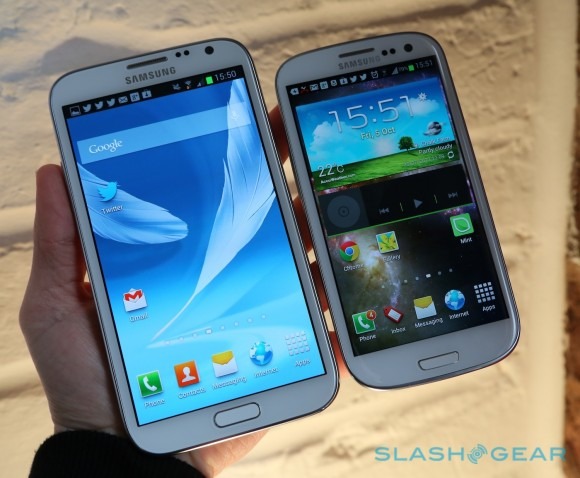 The panel itself continues to use HD Super AMOLED technology, though the resolution has changed: the Note II drops an 80-pixel column and trims things down to 1280 x 720 (rather than 1280 x 800). That means the Note II is actually showing less on-screen than before, despite the larger display, but it also makes it more directly compatible with apps for 720p smartphones, not to mention likely making Samsung's own software engineers' lives easier.
There's more to the screen change than the size and resolution, however. Samsung has thrown out the contentious PenTile panel of before, maligned for its surfeit of green pixels, and replaced it with a brand new pixel layout that gets a step closer to true RGB. The end result is a far more balanced display that looks incredibly good: bright and color-rich, with the syrupy blacks we're used to, and a crispness to text that's distinctly better than what the first Note could manage. Samsung's default color temperature remains more saturated than we'd like, but you can easily tweak that between four presets – dynamic, standard, natural, and movie – in the settings.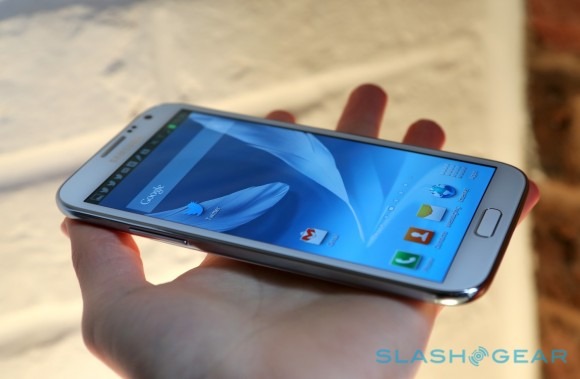 Inside there have been some advances too, with the Exynos processor now packing four cores and running at 1.6GHz. It's paired with a healthy 2GB of RAM – something some, but not all, of the original Note versions offered – and either 16GB, 32GB, or 64GB of storage, with a microSDHC card slot to bolster that. Samsung's default battery is also considerably improved, at 3,100 mAh up almost a quarter over the handset it replaces, and that gives plenty of juice for the surfeit of radios.
HSPA+ 21Mbps and LTE 100Mbps will be offered, though the 4G versions will be country-dependent; all models get Bluetooth 4.0 with aptX high-quality audio support, WiFi a/b/g/n (2.4GHz/5GHz) with WiFi Direct, NFC, and USB 2.0 Host for hooking up accessories like external storage. There's also A-GPS and Glonass positioning, an accelerometer, digital compass, proximity sensor, gyroscope, and a barometer, while a multicolor LED light hides up near the earpiece.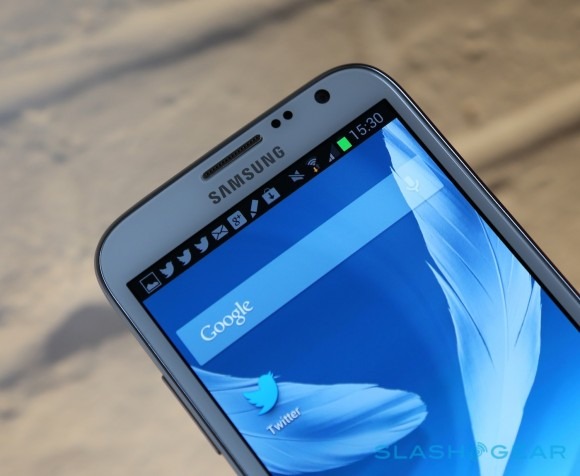 Two cameras are included, an 8-megapixel main shooter on the back with an LED flash, backside-illuminated sensor, and Full HD video recording, and a 1.9-megapixel front-facing camera, also with a backside-illuminated sensor, itself also capable of 1080p video. A 3.5mm headphone jack is on the top edge; the microUSB port is on the bottom, as is the bay for the stylus (more on which in a moment). Samsung persists in putting the volume rocket and the power/lock key on the sides of the Note II – left and right edges respectively – but they've been shuffled further down the body than before, and are easier to press when holding the phone around the middle.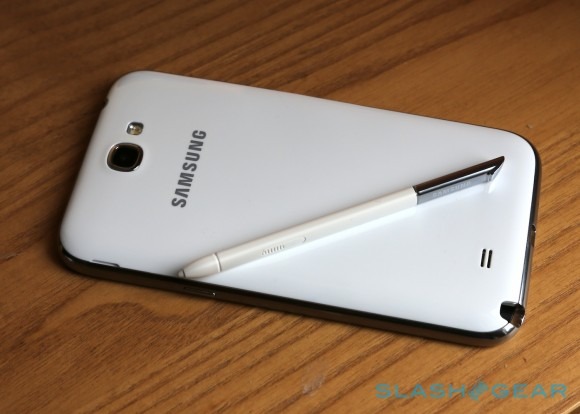 Still, this is undoubtedly a large phone, and our recommendation with the original Note to try before you buy still holds true second time around. The slightly narrower form-factor does make a mild difference in hand-feel, as do the curvier corners, though it can be a stretch reaching down to the menu and back soft-keys – flanking a squashed home/task-switcher button – if you're trying for single-handed use. Those with a fondness for skinny jeans may find the Note II altogether too much for comfort, though the slick, gloss-finish plastic, while not as premium in its feel as the brushed metal of the iPhone 5, does mean the Samsung can slip friction-free into the tighter of crevices.
Stylus
Ever since the iPhone launched, we've seen attempts to pair capacitive touchscreens with styli, but Samsung looked beyond dreary finger-mimicry with the Note's digital pen. Instead, it turned to digitizer expert Wacom – known for its high-quality graphics tablets – for the active digitizer that accompanies the Note II's capacitive screen. It means you can use the Note II with your finger, as you'd expect, but also whip out its pen and get far more precise input as well as pressure sensitivity, useful if you're sketching or using handwriting recognition.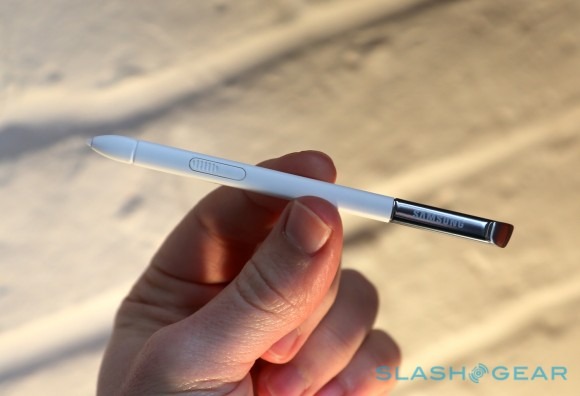 For the new Note II, the stylus itself has had an overhaul. It's now thicker and longer than the previous version (though still fits snugly inside the body of the phone) and the tip has a new coating that's kinder to the screen and feels more like a ballpoint pen when you're writing. The difference in barrel width does make a difference to comfort, now less like pinching a pen refill between your fingertips, though the button on the side – which can be used to call up sub-menus of commands, app depending – still takes a little getting used to.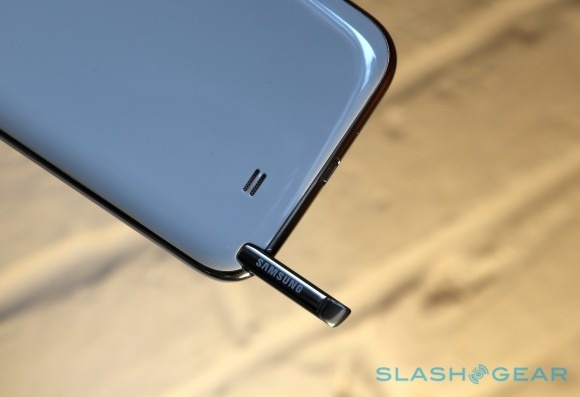 Samsung now supports hover with the pen, the display recognizing that the nib is floating a half-centimeter or so above the display. It gives the Note II a second degree of input: like positioning your computer cursor over an icon or control, but not actually clicking it. In Samsung's case, the actual functionality varies depending on the app, though it means you can see things like calendar event details without having to actually tap into the appointment, preview the content of a message from the inbox list, or look inside a gallery album. You can also use hover to scroll through lists, holding the nib near the end to automatically slide through the options.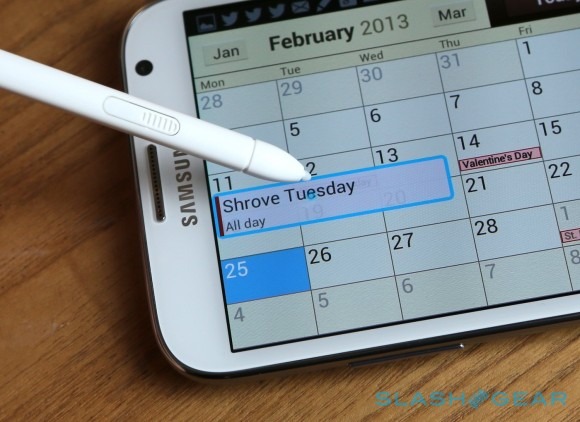 Software and Performance
Launching a new Android phone running anything other than the latest version of the OS, particularly when it's a flagship, is grounds for a severe scolding, so thankfully the Note II runs Android 4.1 Jelly Bean out of the box. For a long time we've been critical of companies who redress Android in their own custom interfaces, but TouchWiz on the Galaxy Note II does at least bring functionality beyond what Jelly Bean alone delivers.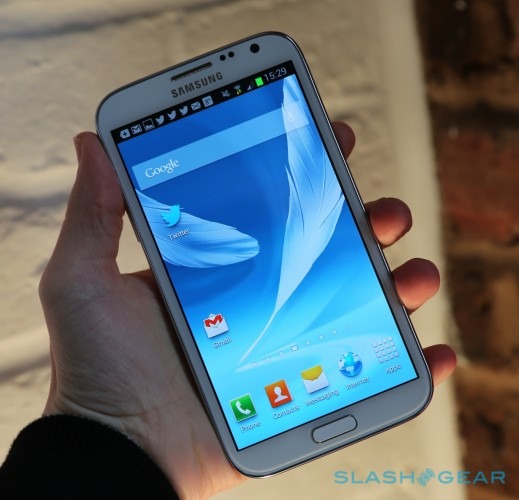 The most obvious of those changes are aesthetic, but as you spend more time with the Note II – particularly with the pen – you see the tweaks and touches that go beyond design. Many of those are familiar from the original Note, of course: you still get the S Planner calendar app, which allows you to circle dates with the stylus and generally scrawl across your agenda, and S Note with its notebooks of memos, diary entries, meeting notes, and more. S Note content can be synchronized with Google Docs or Evernote, too, which makes it far more useful than traditional notes trapped in physical notebook.
Samsung Galaxy Note II software review:
Samsung's stylus can also be used to grab sections of the display as screenshots. There's support for the hand-side-swipe to grab a full screenshot, just as on the Galaxy S III, but you can also hold down the barrel button of the pen and snip out a shape – as basic as a circle or square, or something more finicky – and then annotate it or add it to a notebook. S Note has various preset shapes and clipart, too, and you can add voice recordings, sections of maps, photos, video, and other attachments to each note.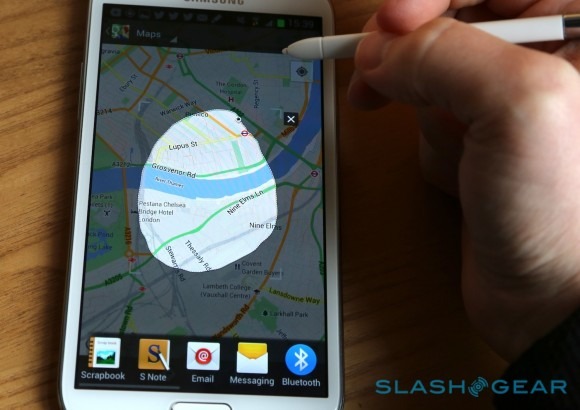 New is Quick Command, summoned by holding down the barrel button and swiping up the display; it works no matter what app you're currently in, and brings up a floating dialog for pen-triggered shortcuts. Write a question mark, for instance, followed by "weather" and you'll get a browser search for the current weather; write "@" and a name, and a new email will open up with suggestions as to the recipient from your contacts (if you've only one contact with that name, they'll automatically be selected). Somewhat annoyingly, given the excellent Gmail app is one of the boons of Android, Quick Command's email composer only works with the customized regular email application. Samsung preconfigures a number of shortcuts, but you can also train it to recognize your own.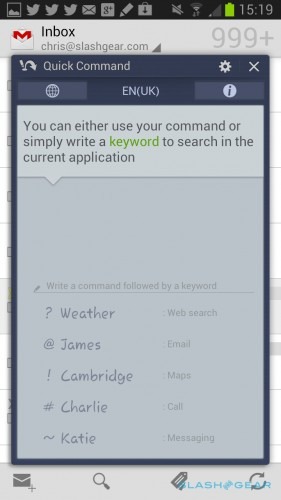 If you'd rather not use handwriting recognition – which requires reasonable penmanship – there's a spacious onscreen keyboard which becomes practically obscene in its size when the Note II is in landscape orientation. New for this second-gen model, though, is the ability to offset the keyboard for one-handed use: you can choose to shrink it down and nudge it over to the left or the right of the phone, making it easier to tap with your thumb while holding the Note II with the same hand. It's an interesting approach, and worked fairly well, though the sheer size of the handset does mean it requires some balancing to keep it from toppling out of your hand.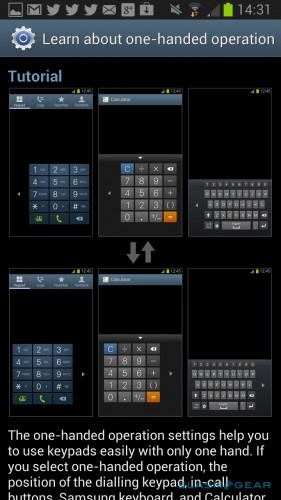 S Voice, Samsung's answer to Siri, is present, and triggered by default by a double-press of the home button. It's still patchy in its usefulness, however, and we had mixed results day to day; since the processing is all done server-side, it's possible for Samsung to upgrade and add new features just as Apple did with Siri in iOS 6, though the functionality appears to be unchanged versus what we saw on the Galaxy S III.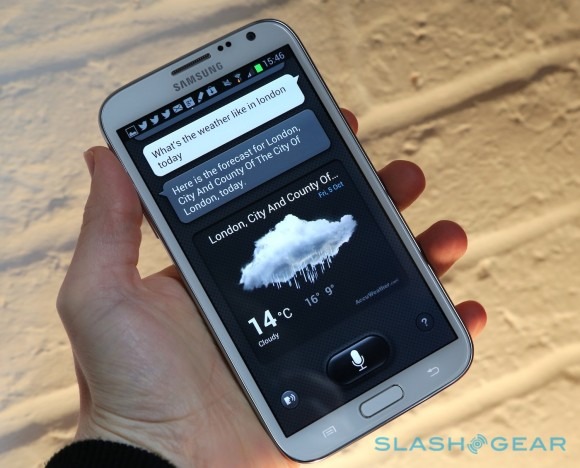 New with Jelly Bean, though, is Google Now, Android's attempt to bring some context and prediction to the platform. It's triggered from an icon in the task-switcher menu – hold down the home button and you'll see it, flanked by a shortcut to the task killer and a button to axe all the currently running apps. As on the Galaxy Nexus, where we first saw it, Google Now is of mixed use, and you need to have invested your digital life in Google's service if you want to get the best out of it. If you've set up your calendar, for instance, Google Now will remind you of an upcoming appointment and help you with directions to get there, as well as telling you the weather. It's still early days for mobile context engines, but we're glad to see it show up on the Note II.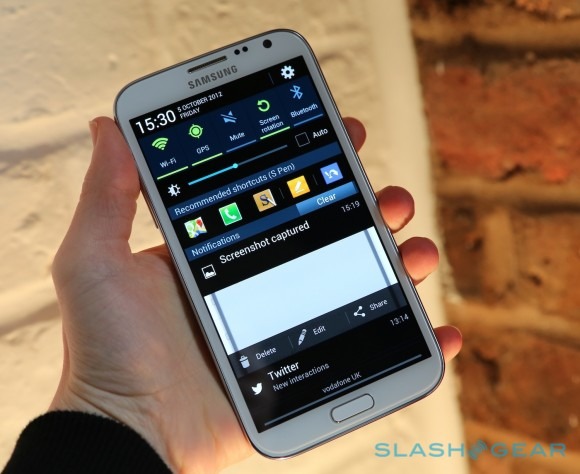 Jelly Bean's other improvements are included too. There's Project Butter behind the scenes, keeping the interface moving slickly, and the Note II did indeed keep up with every swipe. If we ever had any hiccups it was usually down to the sheer size of the display; swiping an unwanted notification from the drop-down menu, for instance (now with a handy preview of the content of new messages) required just a little bit more of a flick than we would do by default, meaning it would sometimes take a couple of tries before it disappeared. Given time, though, we'd expect to get used to that.
In addition to Google's own Android backup, Samsung has added in support for its Cloud service. Register for a free Samsung account, and you can sync your calendar, contacts, internet history, and S Note data; you can also do device backups, of logs, SMS and MMS messaging, and wallpapers, either on-demand or according to a regular schedule. If you'd rather not use Samsung's cloud, there's baked-in support for Dropbox instead.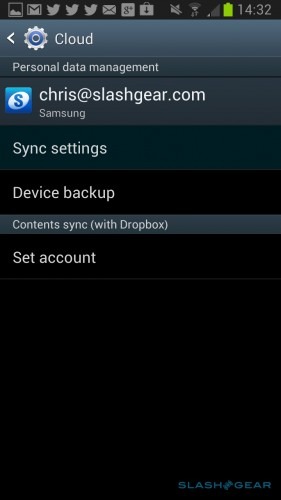 Multi Window borrows from the Galaxy Note 10.1 tablet, pitting two apps side-by-side on the display. Unlike on the Note 10.1, there's no noticeable performance hit, and it's useful being able to quickly review a webpage while jotting reminders in S Note, or keep an eye on an IM conversation.
We had high hopes for the Note II's performance, and the reality didn't disappoint. Day-to-day it's smooth and lag-free, capable of handling any app we could throw at it. In terms of raw numbers, we saw a score of 5908 in Quadrant and 1829 in Vellamo 2's HTML5 tests and 635 in its Metal tests, while SunSpider came in at 1044.7ms. In short, this is one of the fastest, slickest Android devices around.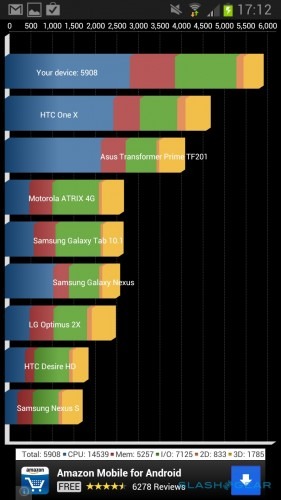 Camera
The Note II shares the same camera with the Galaxy S III, an 8-megapixel backside-illuminated sensor with autofocus and an LED flash on the back, and a 1.9-megapixel webcam on the front. As with the smaller phone, it's capable of some great shots, though it can sometimes tend toward over-exposure and we saw some interesting lens flare when trying to shoot brighter scenes. Close-up shots do particularly well, though, and while sometimes blue skies looked over-saturated on the Note II's display, they were more realistic when we viewed them off the phone.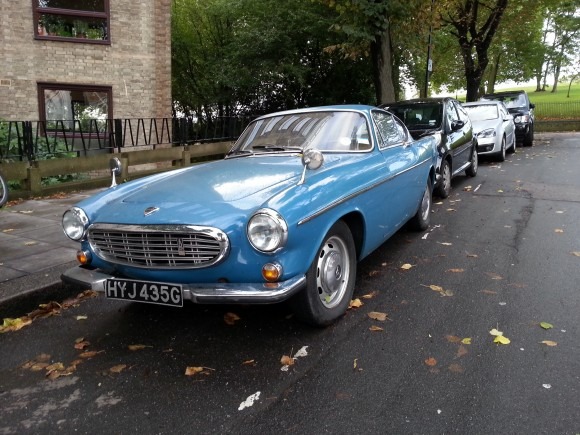 Samsung provides an HDR mode, which combines shots of various exposures to make one with artificially broader dynamic range, together with a burst shot mode for grabbing multiple frames in rapid succession. Panoramic capture is supported, again, just as on the Galaxy S III. There's control over exposure, brightness, and other basics, together with the usual array of filters.
Video, meanwhile, is captured at up to 1080p Full HD resolution whether with the front or back cameras, and marks another solid showing by the Note II. There's little in the way of motion blur, even with faster moving scenes, and the Note II can handle reasonably low-light scenes without descending into too much noise and grain. Stereo audio is also captured.
1080p Full HD video sample:
With support for MHL-HDMI output, with the right adapter you'll be able to hook up the Note II to a display or projector and review whatever footage you've recorded. Alternatively, there's Samsung's AllShare technology for wireless streaming, either to the company's own HDTV dongle, or to any DLNA-compliant device.
Phone and Battery
Holding a device of this size to your head and making voice calls is still a good way to feel self-conscious in public, though the growing popularity of the original Note means there's less of that "talking into a tablet" conspicuousness than before. We experienced no dropped calls on the Vodafone network. The extra length of the Note II does mean the microphone and earpiece are well spaced, and voice calls in general were of high quality. The speakerphone, too, proved loud and resilient to crackle. If you really do feel too ridiculous holding the Note II to the side of your head, there's Bluetooth for wireless headsets, and the aptX support meant, when tested with an aptX-compatible stereo headset, music playback quality was noticeably improved.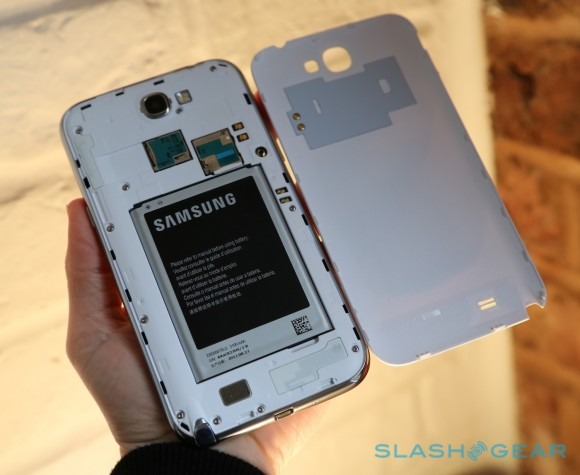 Samsung has outfitted the Note II with a vast battery – 3,100 mAh, and since it's user-replaceable you could feasibly swap it out for another – though the big display and quadcore processor means it's not shy about drinking power. Nonetheless, even with a day of heavy use – including push email turned on, using the camera and then automatically uploading photos and video to the cloud, Google Maps, the browser, some sketching with the pen, and a couple of YouTube videos, not to mention a couple of short calls and some SMS messaging – we reached the end of the day with juice to spare.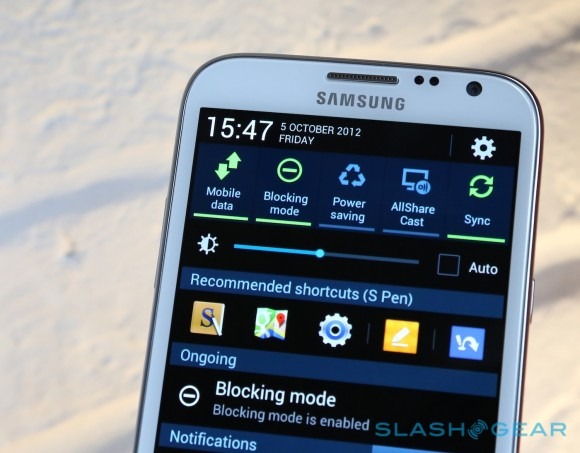 There are new power management tools on the Note II, too, with the existing Power Saving mode (which dims the screen and throttles back the processor, among other things) joined by a new Blocking Mode. That allows you to shut off incoming calls and notifications, alerts from the alarm or timer, and even whether the LED notification light blinks, either permanently or within certain hours. It's ideal if you leave your phone on your nightstand when you're sleeping and don't want to be perpetually disturbed by bleeps and flashing, particularly because you can also set a list of priority contacts who will be allowed through the lockdown.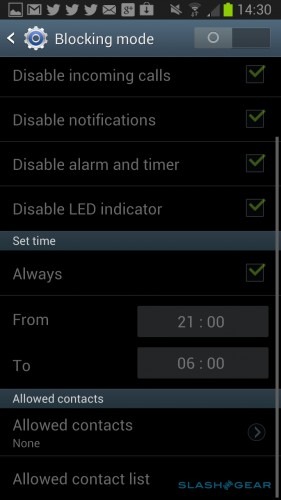 With some sensible use of the settings, then, you could feasibly have two days of use on a charge, though that will depend on how much you use 3G (on this European-spec model; US versions will have LTE, which is even more power-hungry) and other features.
Wrap-Up
For some, the original Galaxy Note was a monstrosity: not quite a phone, not quite a tablet, and not standing any chance at all of ending up in their pocket or bag. They're unlikely to be any more convinced by this refined, faster successor, since the main criticisms are the same: it's big, it's heavier than many phones, and it often requires two hands to use it properly.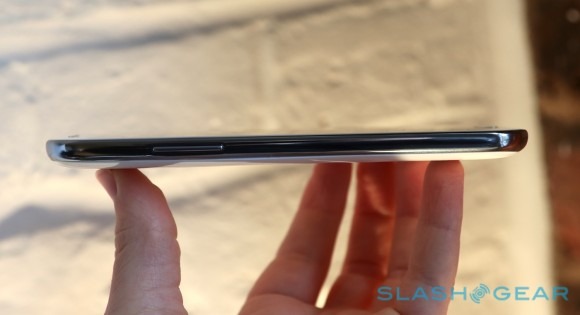 Those not immediately turned off by the Note II's size have a more tempting prospect ahead of them. The new phone offers a bigger display and better pen functionality, not to mention a jump in core performance and – until Samsung can push out OS updates – a newer and more user-friendly version of Android and TouchWiz than its predecessor. It's nicer to look at and hold, faster in use, and lasts longer; most importantly, it takes greater advantage of the digital pen, something which continues to set the Note II apart from most of the competition.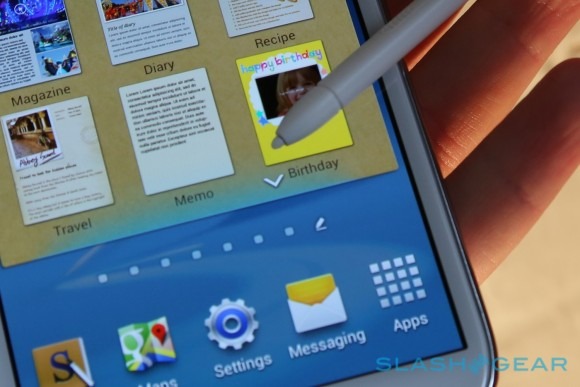 First time around, Samsung had to convince us there was still a place for the stylus with today's smartphones. That ice has already been broken for the Galaxy Note II, and while its audience is undoubtedly smaller than for the Galaxy S III, perhaps, or the iPhone 5, those opting for Samsung's biggest smartphone will find themselves with a handset whose capabilities are even bigger than its display.