Samsung Galaxy Note 8 Review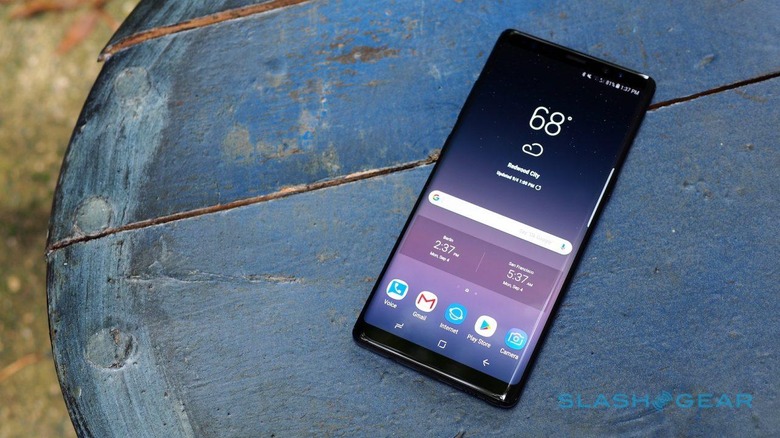 You can't say Samsung's Galaxy Note brand isn't resilient: even explosions and costly recalls couldn't dampen enthusiasm for the new Note 8. Phablet fans are dedicated, though, especially those who demand stylus support too, which means the Note 8 arrives with an audience of eager buyers waiting to open their wallets. Problem is, 2017 isn't short on great phones: there's a new iPhone waiting in the wings, strong competition from LG and HTC, and even Samsung's own Galaxy S8+ is edging in on what would, traditionally, have been Note territory. It begs the question... did Samsung do the right thing, bringing the Note 8 back from the grave?
It's a family affair
We're a long way from the screen size furore that marked the original Galaxy Note's launch: now, big displays are commonplace. The Galaxy S8+ is, at 6.2-inches, just a fraction of an inch smaller than the Note 8's 6.3-inch panel. Glance at the two side-by-side and it's even more obvious that the new Note is a sibling of the Galaxy S flagships, not just a distant cousin.
That's good news for the Note 8. Phablets once had a reputation of chunkiness to go with their expanded functionality, but the new Note benefits from Samsung's latest design language. Like the S8 and S8+ it has an Infinity Display, a sheet of curved Super AMOLED that wraps smoothly around the left and right edges of the phone, leaving minimal bezels top and bottom. On the Note 8 that bend is a little less pronounced – Samsung wanted more flat space for S Pen use – which if anything makes it easier to hold without triggering the edges of the touchscreen.
Unsurprisingly it's a stunning display. Maximum resolution is 2960 x 1440, though you can notch that down with little visible difference and save on some battery consumption. Colors are vivid, brightness levels impressive even in direct sunlight outdoors, and video looks great courtesy of Mobile HDR Premium certification.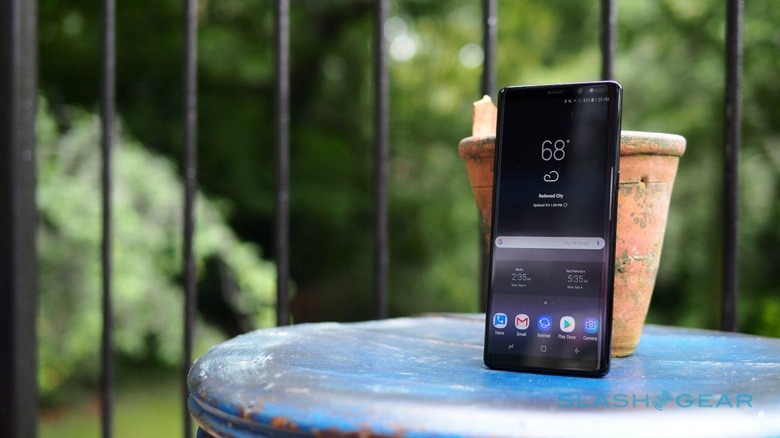 Otherwise it's all smooth curves and high-gloss metal. Samsung still offers a 3.5mm headphone jack, along with USB Type-C for recharging as well as interfacing with its DeX docking station. There's a silo for the S Pen on the bottom edge too, while buttons on the sides handle power, volume, and – still controversial – Bixby, the company's own virtual assistant which launched on the S8. Courtesy of the fairly tall, narrow screen, it doesn't feel unnaturally broad in your hand. Reaching top to bottom with a thumb is still tricky, but stretching across horizontally is fine. You of course get IP68 water and dust resistance.
Brawn to go with beauty
The similarities between the S8 and the Note 8 continue inside. They share the same processor – either Qualcomm's Snapdragon 835 or Samsung's Exynos 8895, depending on region – but the Note 8 gets 6GB of speedy LPDDR4 RAM rather than 4GB. There'll be 64GB, 128GB, and 256GB storage options, though in the US you're likely to only find the smallest of the three on sale via carriers. No matter; it's probably cheaper to drop a microSD card inside, instead.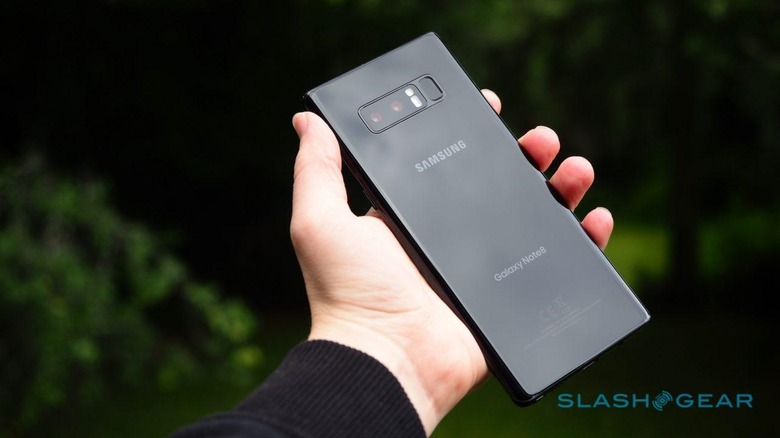 Connectivity reads like a Wikipedia entry of the latest standards. There's LTE Cat.16, WiFi 802.11ac (2.4/5 GHz) with MU-MIMO and 1024QAM, Bluetooth 5.0, ANT+, and NFC, along with support for Samsung Pay's credit card mimicking MST system. Along with wired fast charging there's wireless fast charging, with support for both the major standards. As you might expect, the Note 8 doesn't offer a user-removable battery.
Rumors of an in-display fingerprint sensor failed to pan out – apparently the technology is giving everyone in the industry headaches – and so Samsung stuck with the same biometric options as on the Galaxy S8. The Note 8 can read your fingerprint, or use your face or iris recognition to unlock itself. Often frustrated by the location of the fingerprint scanner, awkwardly placed alongside the camera on the rear, I've instead been using iris recognition most often. For the most part it's been swift, though there are the occasional times when I've been left gaping wide-eyed at the phone before resorting to punching in my PIN. If you're considering using face recognition, don't.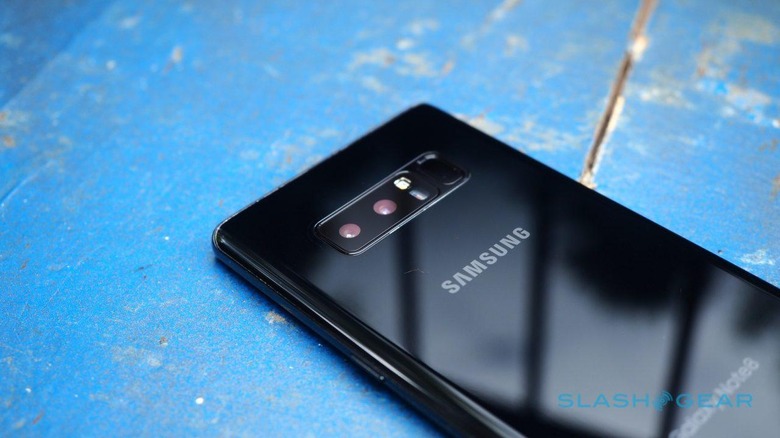 Who ate my Oreo?
Out of the box, the Galaxy Note 8 runs Android 7.1.1 with Samsung's usual suite of customizations and apps. Android 8.0 Oreo is on the roadmap, but there's no word on when, exactly, it will arrive. Nonetheless, there's a lot to like even before that happens.
We're a long way from the gaudy days of TouchWiz, and Samsung's current theme, though not the Android default, isn't unpalatable. It's also functional, especially with improvements to the "Edge" system of shortcuts that pull in from the edge of the phone. By default you get the People Edge and the Apps Edge, and the latter now supports not only folders but combining two apps together so that with a single tap they launch simultaneously.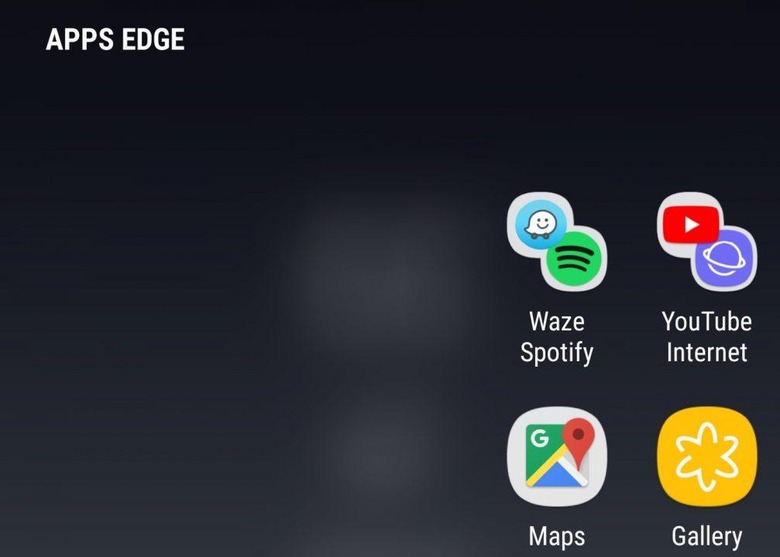 For example, I have Waze and Spotify set as an App Pair, so that when I get into the car I can quickly bring up both. You can choose which opens on the top and which is on the bottom, though there's no way to predefine where on the screen the split is: each app always gets 50-percent to play with. Of course, as per any split-screen view, you can then press-and-drag the center line to adjust as you see fit.
With Samsung DeX, the Note 8 promises to be even more productive. Drop the smartphone into the cradle, hook up an HDMI display and USB or Bluetooth peripherals, and – new with the Note 8 – any music controllers you might have, and you get a full desktop PC equivalent. There's a new Game Center launcher that pulls together all the apps you might have loaded, plus support for multi-window apps like Samsung's email client or its browser.
Performance is as smooth as an Olympic swim team. I'm loathe to rely on benchmark apps, since they rarely represent what you'll experience in everyday use. Suffice to say, I've experienced no slow-down, no lag in opening or using apps, and none of the weird UI pauses that Android devices can occasionally suffer.
On top of that, Samsung is promising monthly security updates for Android, and its own Knox 2.9 security suite. Enterprise users will probably be most impressed, though the ability to create a second install of an app in Knox's Secure Folder, complete with a completely different account logged in, does make it easier to manage two Snapchat accounts, for instance.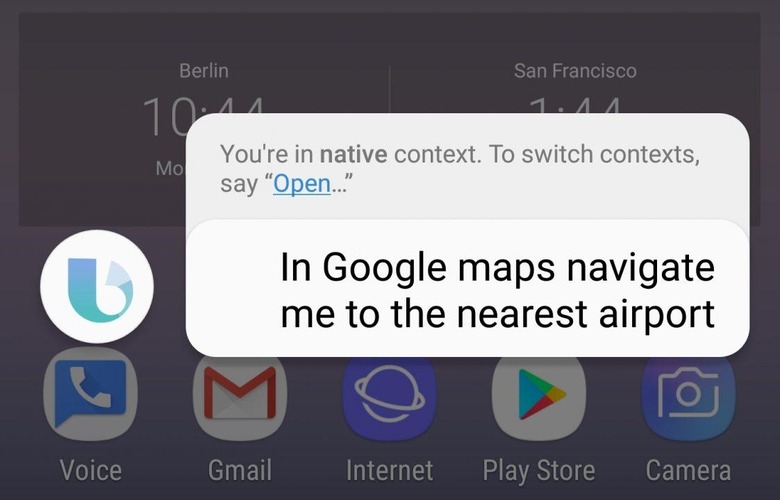 The last big customization – and maybe the most controversial – is Bixby. As with the Galaxy S8, Samsung's virtual assistant gets a dedicated button on the side of the phone, which can't be mapped to anything else. Bixby is actually a suite of services, not just a Siri or Google Assistant alternative: you can snap photos of landmarks and get travel information; products and get shopping listings; text and get translations; or just search for similar images online.
Bixby works reasonably well, for the most part, though it's still some ways from being a must-have service. Unsurprisingly it does better with simple instructions; many third-party apps don't have support, so you can't ask for a Spotify artist search, for instance. Still, it's not like you miss out on having the Google Assistant as well, since both services co-exist on the Note 8. No, the main annoyance is that physical button that all too often accidentally summoned Bixby when I put the phone into my pocket or bag.
Pen Power
To say Samsung was mocked for including a stylus on the original Note would be an understatement. Several generations later, though, and it's having the last laugh: the Note 8 has the pen-enabled phone market pretty much to itself, and there's plenty to like about what you can do with the 108.3mm long stylus.
It's gained the sensitivity upgrade we saw earlier in the year on the Galaxy Tab S3, now capable of recognizing 4,096 levels of pressure. It's battery-free, of course, and with a new texture to the 0.7mm tip that makes it more akin to writing on paper. Samsung has aced the friction balance, minimizing drag yet with sufficient grip still to avoid the nib skittering across the display.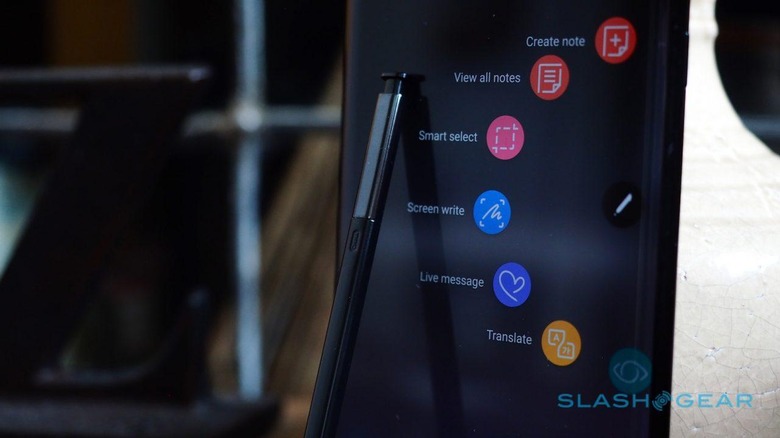 The biggest improvements are in the software tweaks. Some are new features, like the downloadable coloring books, while others are enhancements of existing ones, such as being able to write up to 100 page notes directly on the lock screen with Screen off memo. Translate and Convert have been supercharged with more languages that can be recognized when you hover the S Pen over individual words or, now, chunks of text.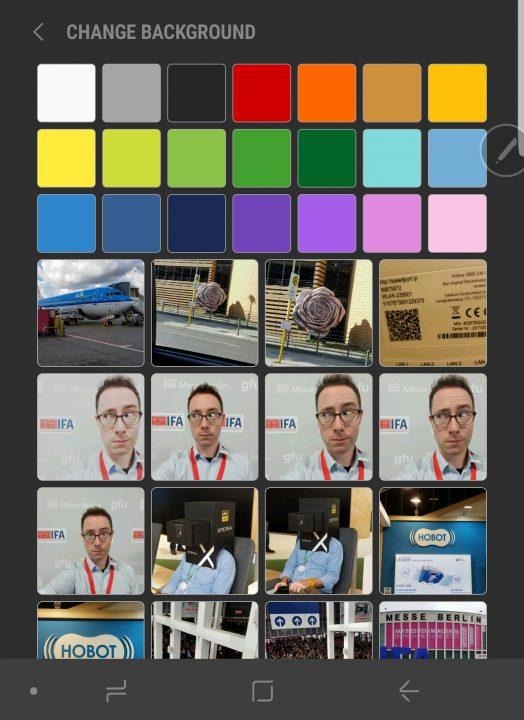 Pop the S Pen out of its silo and Air Command fans out, a radial menu of stylus-related shortcuts. From there you can create or read notes, select portions of the screen, or annotate whatever you're looking at before saving or sending it. It's also where the new Live Message feature can be accessed (though you can pull it up from the regular on-screen keyboard, too).
From there, you get a black square on which you can draw or write a message that the Note 8 animates. It's reminiscent of sending a sketch on the Apple Watch, only with a much larger canvas to draw on, and the S Pen's accuracy rather than just your fingertip. You can choose between different ink colors and regular or sparkly pens, and whether to use a blank background or load a photo from your gallery to drawn on.
Happily, the Note 8 saves Live Messages as a regular animated GIF, which means you're not locked into a proprietary messaging service in order to send them. Unfortunately Instagram doesn't support animated GIFs, though there are apps that will convert them into the short videos the photo-sharing service prefers. There's a limit to the number of pen-strokes you can make per Live Message – a progress bar creeps across the screen to show how many you have left – which might limit just how complex you can be in your creativity.
It could've been a gimmick, but I've been having more fun with Live Messages than I expected. The size limit forces not only brevity, but lifts some of the pressures of being A Good Artist from my inept shoulders. Samsung's PEN.UP community still exists, with over a million pieces of often-impressive S Pen drawn art from Note owners through the generations, but Live Messages' playfulness is far more to my tastes (and skill levels).
Say cheese, it's worth it
Samsung isn't the first smartphone company to use a dual-camera system, but the Note 8's implementation is one of the best around. The two back cameras each shoot at 12-megapixels, one equipped with an f/1.7 wide-angle lens and the other an f/2.4 telephoto lens. Only the former gets Dual Pixel focusing, but both – unlike on an iPhone 7 Plus – have optical image stabilization.
The result is the equivalent of a 2x optical zoom, with no loss of image quality. Alternatively, you can zoom in to a maximum 10x, though it's a digital zoom at that point. You can tap to flick directly between 1x and 2x, or drag your finger on the shutter button for stages in-between; it can be a little jerky, mind.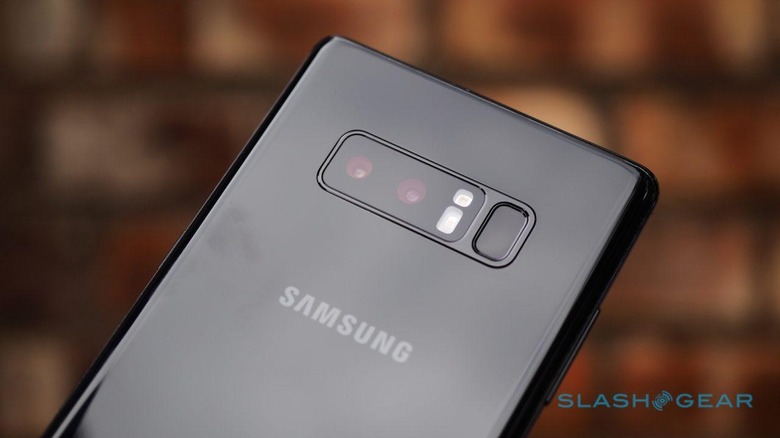 With two cameras comes Live Focus, Samsung's version of Apple's Portrait mode. Where the Note 8 distinguishes itself is by offering control over the degree of background blur, with a slider across the bottom of the preview. Most usefully, though, you can later re-adjust that level from the gallery; I got into the habit of ignoring the slider at the point of capture, and just relying on the fact that I'd be able to tweak the results later on when I had more time.
Where Apple saves both a Portrait mode image and the un-blurred picture, Samsung's Dual Capture system keeps the shots from both the wide-angle and the telephoto sensors. That way, not only can you later adjust the faux-bokeh, but flip between a close-up and a full shot too.
Whichever level of zoom you're at, the Note 8's camera is excellent. Just as the Galaxy S8 impressed us, so the new Note picks up that crown. Auto mode does a near-prescient job of picking the right settings, particularly if you take a second to use the touch-focus and drag the brightness slider. Alternatively there's a Pro mode, with individual control over aperture, white balance, ISO, and more, along with center, spot, and matrix metering, center and multi autofocus, and a number of real-time filters. The results are full of detail, bright, and low on noise.
As for video, the Note 8 will capture at up to Ultra HD 4K resolution. There are a few reasons why you might want to stick to Full HD, though. HDR, video effects, and tracking AF don't work in the UHD, QHD (2560 x 1440), and FHD 60fps modes. Sadly, LG's Point Zoom feature – which allows you to pre-select a region to zoom in on, rather than just the center of the screen – from the V30 doesn't have an equivalent on Samsung's phone. I'd like to think that, just as Samsung has a download store of add-on lenses for features like auto-generating GIFs, it could add something similar at a later date.
Will it burn?
Samsung has been the butt of "exploding phone" jokes for a year now, after the costly and embarrassing Note 7 battery fiasco. A not-unfair question about the Note 8, therefore, is whether the company has taken the relevant steps to make sure it doesn't have a replay on its hands.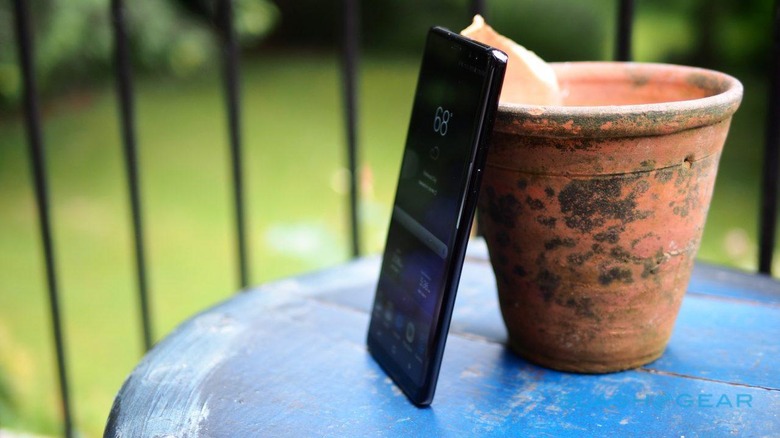 It's important to remember that nobody saw the Note 7 recall coming. The phone was widely praised by reviews as being among the best handsets of 2016: none were set up to look at the internal architecture and battery chemistry later blamed for the Note 7's meltdowns. All we can go on is Samsung's promises of much more stringent testing, and the fact that they've been less ambitious this time around with how much power they've attempted to squeeze in: 3,300 mAh in the Note 8, versus 3,500 mAh in its predecessor.
An all-day companion
With a battery that is, ironically, slightly smaller than even that of the Galaxy S8+, I was curious whether Samsung's caution with the Note 8 would impact its longevity. I needn't have been concerned. The phablet had a baptism of fire, roped in as my primary device at IFA in Berlin.
Settling on a "typical" pattern of use for any phone is effectively impossible: no one user is the same as anybody else. I'm pretty confident, though, that the trade show experience counts as a pretty intense challenge for any device: lots of messages and emails coming in; plenty of screen-on time for checking schedules and looking at maps; above-average use of the camera; plenty of social messaging; and more time on LTE than on WiFi. I resisted my over-cautious urge to top up whenever I had access to a power supply, and instead took the Note 8 off its charger at 6:30am and then watched the percentage drop.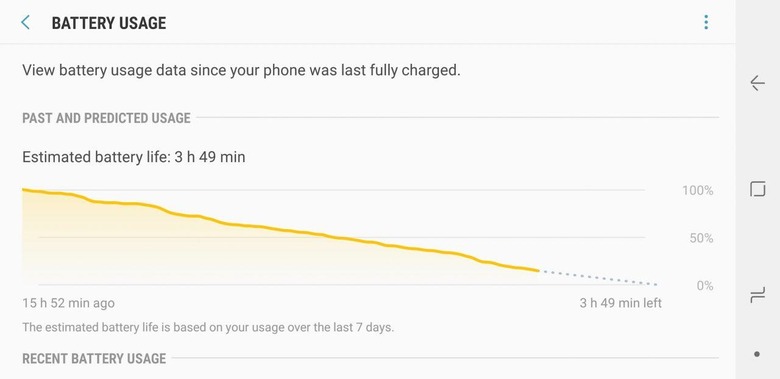 Drop, it did, but slowly. By the time I reached 15-percent it was almost 16 hours later, with Android predicting I had close to four hours juice remaining. That's without resorting to either of the Note 8's two power-saving modes, which suggested I could extend the final runtime for anything up to thirteen hours if I opted for the most aggressive settings.
Like I said, this is with intensive, atypically-high use. Scale things back, and I've no doubt the Note 8 could sail through two days away from a charger. That, with the fast-charging support, certainly takes the edge off any lingering frustration about a non-removable battery.
An age of thousand-dollar smartphones
In many ways, the Galaxy Note 8 is incredibly easy to recommend. It has a beautiful screen, excellent camera, the S Pen is legitimately useful, battery life solid, and performance swift. Indeed, the biggest drawback is what it will cost you. Samsung's $930 unlocked price – around which carrier pricing is settling, give or take – may well prove to be competitive with what we're expecting Apple's new flagship "iPhone 8" to cost, but that doesn't make either of them any more palatable to your wallet.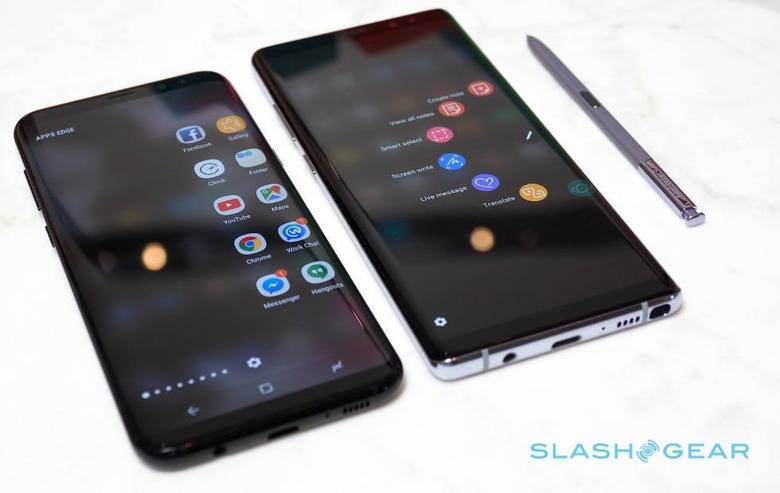 If you want the S Pen, you don't have much choice in the matter: the Note 8 is your only real option. Sacrifice that, though, and there are significantly cheaper phones out there which provide compelling alternatives. Samsung's own Galaxy S8+ is almost the same size, has a great camera (though no optical-equivalent zoom), and many of the software features of the Note 8, for several hundred dollars less.
If dual-camera Android is your thing, the new LG V30 has its mighty impressive regular and ultra-wide setup. Huawei's collaboration with Leica, meanwhile, has earned its recent models well-deserved praise. Wait just a little longer, and Google's new Pixel phones are likely to build on the current models' solid photographic capabilities.
Wrap-Up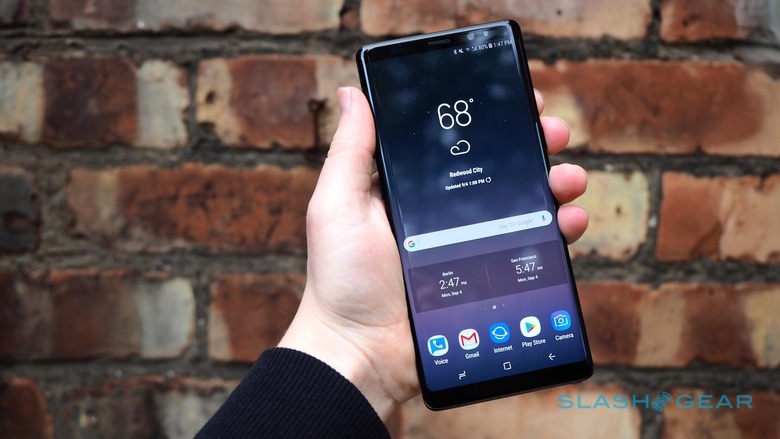 There's nothing quite like a Galaxy Note. Samsung's flagship may not stray wildly beyond the Galaxy S8 and S8+ we've already seen, but the changes it brings – S Pen, camera, and more RAM – pay dividends in all the right ways. Certainly it's not a cheap device, but nobody said the cutting-edge would be easily attainable.
For many, the Galaxy S8+ will be more than enough Android. Still, the excellent dual-camera functionality Samsung has developed, not to mention the S Pen which simply gets better generation after generation, mean the new Note still more than justifies its spot at the top of the phone-maker's range. Right now, the Note 8 is as good as it gets.