Samsung Galaxy Camera tipped for IFA: 16MP and Android 4.0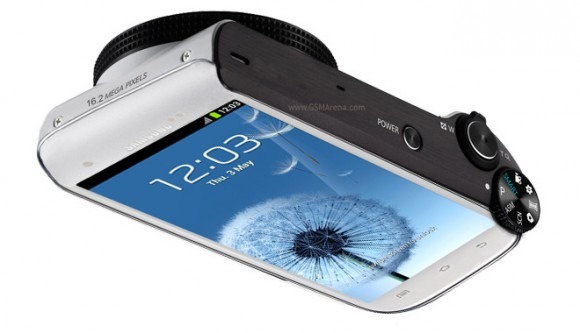 Samsung's IFA surprises could include an Android powered camera to rival Nikon's Coolpix S800c, the Samsung Galaxy Camera or Galaxy S Camera, according to pre-show gossip. The new snapper will have a 4.8-inch Super AMOLED display and run Android 4.0 Ice Cream Sandwich, according to GSMArena's supposedly-reliable source, and feature a 16-megapixel sensor, 10x zoom and pop-up Xenon flash.
Aesthetically, it's described as "a Galaxy S III glued to the back of a point-and-shoot camera, with no physical buttons on the back," hence the mock-up above. Accommodating a bigger than smartphone-average sensor, however, means a thicker device: 1.5-2x the S III, supposedly, putting the Galaxy Camera somewhere in the range of 12.9 to 17.2 mm.
Whispers of a Samsung smart-camera had already begun earlier this year, when a US trademark filing for the "Samsung Galaxy Camera" was spotted. A quick search of the USPTO today shows no such filing for "Galaxy S Camera," though it's possible the device could have slightly different names in the US and European markets.
As for connectivity, there's chatter of both WiFi-only and WiFi + 3G models – the latter only supporting data, not voice – with Samsung apparently in talks with carriers to gage their interest. We'll know more this week at IFA, so keep an eye on our show hub for all the news.
[via GottaBeMobile]