Samsung flexible OLED gadgets incoming this year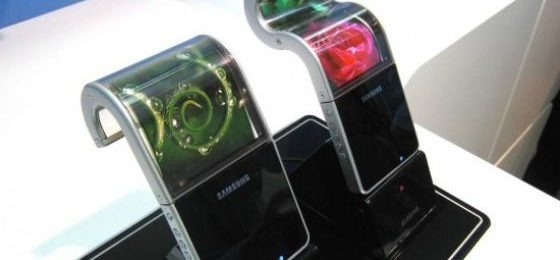 Samsung is mass producing flexible OLED displays for products still on track for release in 2012, the company has confirmed, though the exact extent to which they actually bend will depend on more than just the panels themselves. Samsung Mobile Display's assistant president confirmed the sales plans this week, Asia Economy Park News reports, insisting that "flexible displays will be commercialized within a year." The initial implementations are expected to include smartphones and tablets.
According to the SMD exec, exactly how flexible the displays end up being will be a matter of the substrate selected, among other things. Although the dream of bendable screens has been a pull-out panel that can offer both a large viewing area and a small gadget size, there are also potential implementations in devices that have wraparound panels or touchscreens that contort to suit the shape of a device.
In fact, Samsung has already experimented with curved screens, with its so-called Contour Display technology as seen on the Galaxy Nexus. That has a slight bend to the lower portion of the screen, intending it to be more easily used with a single hand.
However, what we'd really like to see is something like Nokia's GEM concept, a phone clad entirely in touch-sensitive display panels, or indeed a production version of Samsung's own folding MID concept from earlier last year. The company has been pushing the envelope with AMOLED screen sizes in recent months, such as the huge Galaxy Note, and is expected to use another large panel for the upcoming Samsung Galaxy S III.
[via OLED-Display]