Samsung DeX Station for Galaxy S8 finally gets a price tag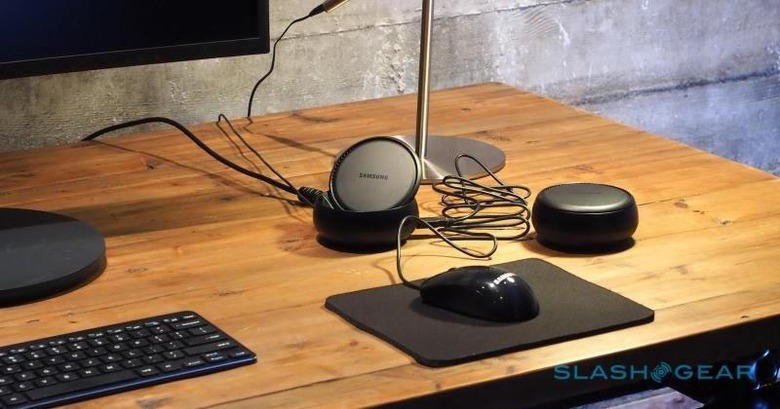 We may receive a commission on purchases made from links.
A major piece of the Galaxy S8 story has finally fallen into place. On the heels of the announcement of the Galaxy S8, the Galaxy S8+, and their friends, Samsung has finally answered one remaining question: how much will the DeX Station cost. On paper, it might not sound too costly compared to other smart accessories, but, in light of the Galaxy S8's own price tag, it's going to end up costing nearly $1,000 in total. All for a feature that some are considering more of a gimmick than an actual necessity.
DeX is Samsung's new umbrella term for its "smartphone as a desktop" functionality. Technically, Samsung DeX is the software running on the Galaxy S8 and S8+ that displays a desktop-like interface on a larger screen, complete with movable app windows.
But for that to work, you'll actually need the DeX Station, for now the only dock that works with DeX. It connects to the Galaxy S8 via a USB-C plug and then to an external display via HDMI. It also has other ports, like Ethernet or USB, to really turn your smartphone into a makeshift desktop. It even has a fan to keep the Galaxy S8 from overheating, almost just like a mini PC.
Although impressive, not everyone has been sold on the idea. Samsung is hardly the first to have tried this feature, and none of the previous attempts have had any long-lasting success. Android does have the advantage of offering a uniform set of apps, unlike the split between Windows 10 UWP and desktop apps, and Samsung does have some experience on the windowing side of things.
Whether DeX will end up just as a demo of the Galaxy S8's power or an actually useful new trend, we'll have to wait for the smartphone and the dock to ship. You can already pre-order the DeX Station now for $149.99 and it will ship in "late April", most likely in time for the launch of the Galaxy S8 itself.
SOURCE: Samsung