Samsung Delays Galaxy Tab 2 Tablets To End Of April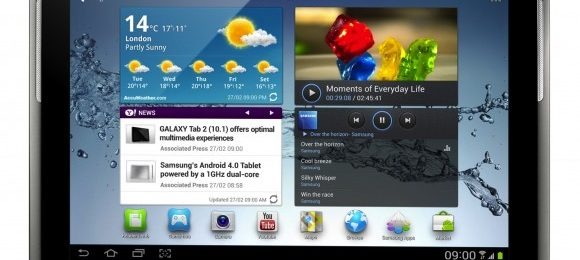 For those of you in the UK who were hoping to pick up a Galaxy Tab 2, you'll be waiting a little bit longer. Samsung said today that the 7.0 and 10.1-inch versions of the tablet have been delayed. Both tablets will now ship towards the end of April. The company says that both tablets will be running Ice Cream Sandwich when they ship, but that Samsung and Google need more time to fine tune the OS.
It's unclear exactly what Samsung mean by that, as they failed to elaborate on the details. It could be an issue with integrating TouchWiz into ICS, or a hardware compatibility problem, but it's idle speculation at this point. At least Samsung will be delivering the latest version of the Android OS to customers if they decide to buy either tablet.
The tablets were announced in February and expected to ship in March, although the month passed without any sign of the products. Both are expected to be low-cost alternatives to the existing Galaxy Tabs. The 7-inch version will include a 1Ghz dual-core processor, a 1024x600 PLS screen, and a 3 megapixel camera. Storage will vary between 8 and 32GB. The 10-inch version will feature the same processor, but have a 1280x800 PLS screen and 16GB of storage.
Samsung also recently pushed back the ICS update for the Galaxy Note, originally saying it would be ready for Q1. The update is now expected to land sometime in Q2, with Samsung including a Premium Suite with new S-Pen enabled apps, as well as a free copy of Angry Birds Space.
[via ComputerWorld]