Samsung Dart Review [T-Mobile]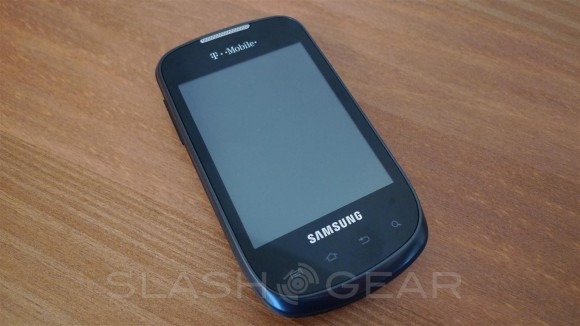 What I've got here is one of the three newest members to the mid-range line of phones over on T-Mobile. The smallest and sleekest of them all and that is the Samsung Dart. While reading this review you might want to take into consideration this is a mid-range phone at best, it is meant to compete with other offerings like the LG Optimus or even the Motorola Cliq. This phone might just be the perfect phone for your children as a first smartphone.
Before I break it down a little bit here is the hands-on and unboxing video for you to get a better idea of the hardware of the phone.
Samsung Dart hands-on and unboxing
[vms b5c8973ade16764156be]
Hardware
The Samsung Dart also known as the Galaxy Mini is one of the smallest Android phones around. Weighs just around 3.80 oz and sized at 4.09 x 2.40 x 0.51 although it might feel large if you're coming from a flip phone or a everyday feature phone but for most Android users this is a small device. One of the phones biggest pros is also a con and that is the screen. It has a 3.14-inch TFT display with a low 240×320 resolution so it isn't the best looking display, but that small screen gives this phone pretty great battery life. Below you can see both the phone and its screen size compared to the other recent Samsung offerings.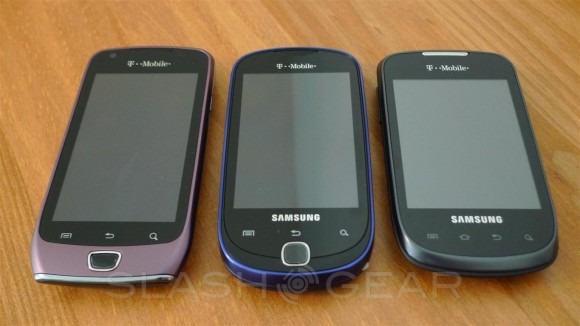 It has a 600 Mhz CPU as well as a 3.2 MP camera on the rear, the battery is 1200 mAh so like I said above it lasts plenty long when it only has to power that size of a screen and processor. The overall design is actually pretty nice and the reason I say that is for a mid-range phone that is free with a new 2-year contract it has some decent build quality. The Samsung Gravity Smart slider actually feels a bit cheaper in comparison.
Software and Performance
It has a 600 Mhz processor like stated and even though you wont be playing some of the latest games in the Android Market it will handle some and I was able to play Angry Birds on the phone. I know that is a big deal to some. Performance while scrolling through homescreens or the app tray seemed great for what you pay for. It was quick and snappy and didn't seem to freeze or lag, but then I'm not doing anything all that consuming either. It is running Android 2.2 so thing feels pretty smooth. It comes with Swype, Wifi Calling and a few other apps pre-loaded and that is all. They kept that list short but that is better than having apps you wont ever use.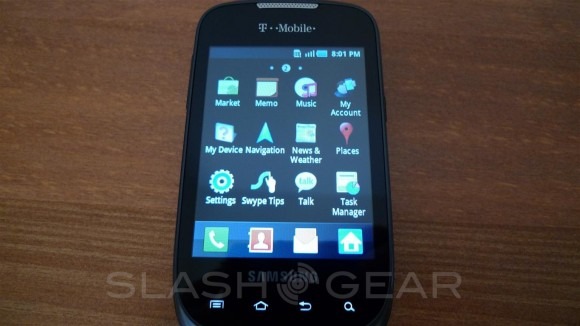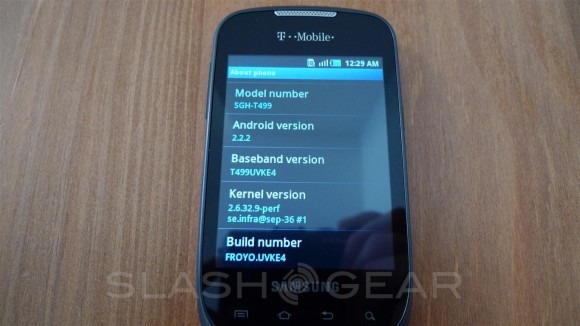 Camera
The camera is a 3.2 MP shooter but it lacks an LED flash so you better make sure you have enough lighting to get the job done. It does have a decent face detector feature but the auto focus seems to be lacking and I had a hard time getting a great shot. The shutter speed was quick and once focused the photos turned out good for only being 3.2 MP. Here are a few test photos so you can see the quality yourself.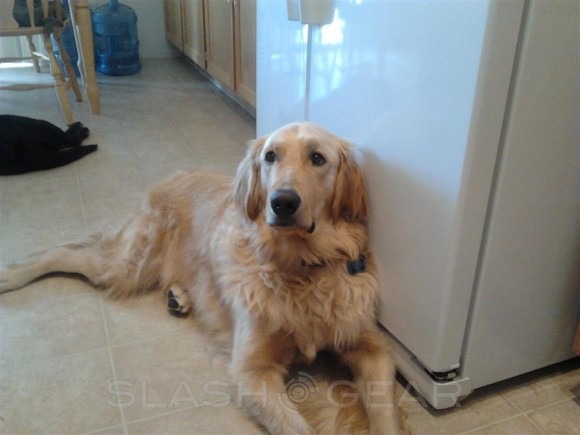 Auto focus could have been better for close-up photos but it still turned out ok. (If you like blurry close-ups)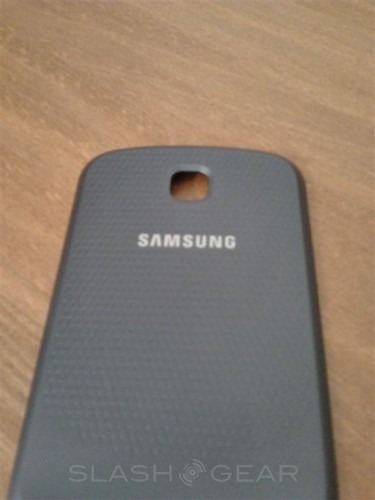 Wrap-Up
Again this is the Samsung Dart, a mid-range device from Samsung on T-Mobile USA and it is available right now. If you'd like to compare it to the other three devices coming from Samsung for T-Mobile we've reviewed the Exhibit 4G and unboxed the Gravity Smart with a full review coming soon. Those are your choices from the mid-rage T-Mobile list in the Android world.
To finish things off I'll just say no this phone might not be the best, but for what you are getting and the price you pay it is a great little starter device. The build quality and software running on Android 2.2 make for a seamless and smooth day to day experience. My only concern is the screen resolution is low and it does have a pretty blurry display. I think the original G1 might have looked better but that is just a guess. For any first timer getting a smartphone or for your kids this would be a good start. Make sure you check out all the photos in the gallery below so you truly get a feel for the hardware. Thanks for reading.