Samsung compares the Galaxy Note 10.1 with the new iPad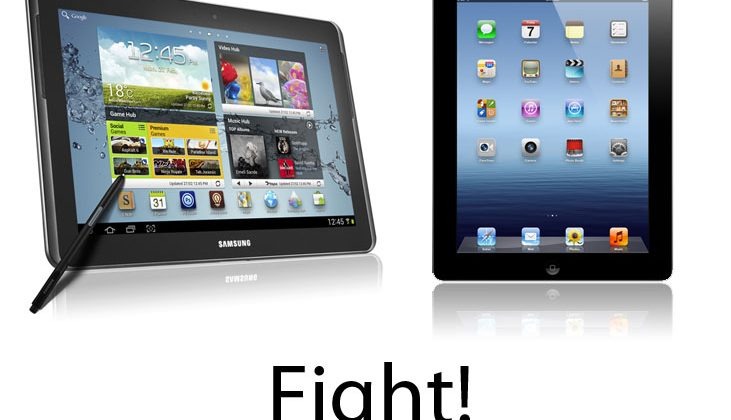 It's all about the iPad today, but no company worth its salt would miss the opportunity to remind tech heads of its own upcoming prospects and vie for your consumer electronics dollar. Since Samsung has become Apple's #1 foe on the worldwide market, it wants to make sure you remember its new flagship tablet, the Galaxy Note 10.1. Essentially an upgraded version of the Galaxy Tab 10.1 with the added benefit of a Wacom digitizer, S-pen stylus and plenty of custom apps, Samsung is hoping to transition its tablets into the creation space.
Most of the features Samsung chose to highlight center around user interface, or tangentially related items. Point the first: the Galaxy Note 10.1 can view and work with two apps at the same time, and the new iPad can't. True, as long as you're using one of Samsung's specialized apps that support Android's instancing API (or another app that does). Point the second: the Galaxy Note is designed with precision writing and drawing with natural pen-based input, and the iPad isn't. Also true, since the compbinatio of an active Wacom-supplied digitizer and a pressure sensitive stylus makes for a degree of control and precision that just isn't possible with a basic capacitive stylus.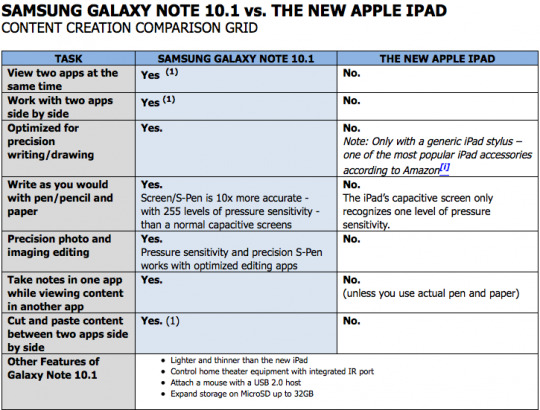 Samsung also notes (ba-dum tish) that the Note can handle precision photo and imaging editing. That's debatable, since the editing capability is largely contingent upon the app one is using. But based on the previous precision points about the S-Pen, you could certainly make the case. Samsung points out that with the Galaxy Note 10.1 you can take notes in one app while viewing content in another. This is definitely a unique feature, and one that the iPad can't emulate (out of the box, anyway) though Samsung says you could always carry along a real pen and paper as well.
Also on the checklist is a thinner and lighter frame (yes – the new iPad's just a hair thicker than the old one, and Samsung's Galaxy Tabs were already thinner than the iPad 2) an integrated infrared port for controlling a home theater, expandable MicroSD storage and USB host functionality for adding wired mice and keyboards. All true, though certain facts like the new iPad's screen resolution, processor, camera, etc. aren't touched on. Apple also has one major advantage when it comes to actually selling tablets: the iPad is up for pre-order now, and has a release date of March 16th. Full prices and availability can be found here – which is more than we can say for the Galaxy Note 10.1, whatever its charms.