Samsung Captivate Glide review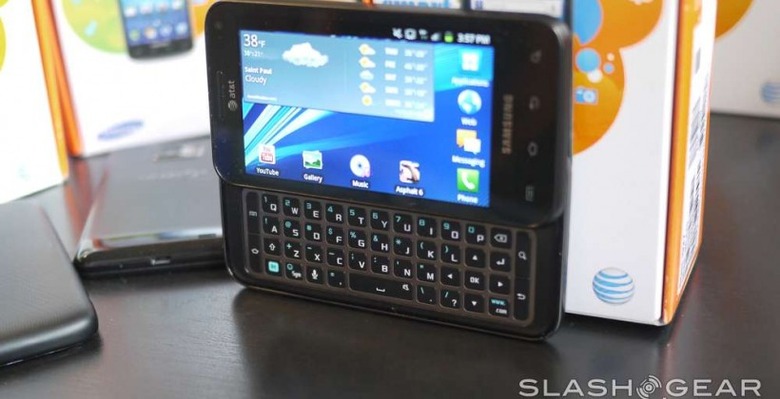 When it comes to releasing new devices, Samsung and the rest of the manufacturer bunch doesn't always aim for the top of the ladder – case in point, the Samsung Captivate Glide, a dual-core smartphone with a 4-inch Super AMOLED display and a slide-out keyboard. This device is being released on AT&T's 4G network (not LTE, mind you, just regular ol' 4G) and is currently one of the only dual-core smartphones with a keyboard on the market. If we turn away from the keyboard for a moment and focus on the rest of the device, I think you'll find that while this handset certainly doesn't seem to be up to the task of beating down the very top of the pack of smartphones out today, it's certainly a wrestler for the dual-core lovers of you out there in AT&T Land.
Hardware
This device features a 4-inch Super AMOLED display, meaning it'll be very very bright and has 480 x 800 pixel resolution. This crushes the mid-range competition for brightness and in most cases for resolution as well, but doesn't quite match the Galaxy S II for either energy efficiency or, again, brightness. Thus is the difference between Super AMOLED and Super AMOLED Plus – though you won't likely notice it unless you've got both phones in your hands at once.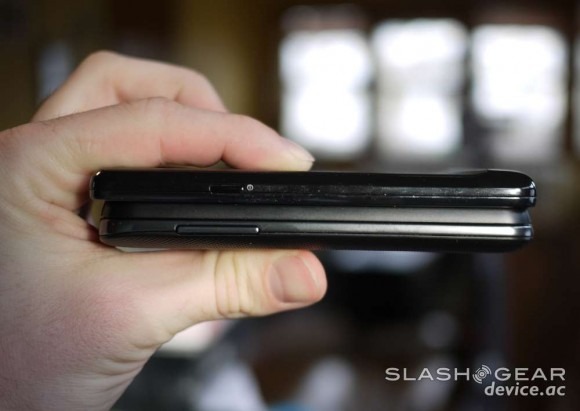 This device has a relatively solid construction throughout, but when you do handle the phone often you'll notice the slide-out action happening a little TOO readily, the power button's placement on the side of the device making a strange bit of accidental flipping happening for your humble narrator more than once. Similarly there is a bit of a downfall on the back cover as it's easily the thinnest piece of plastic Samsung has ever produced for a smartphone. Once it's on though, you may well forget about how light it is. This device won't win any awards for perfect toughness, let's just say that.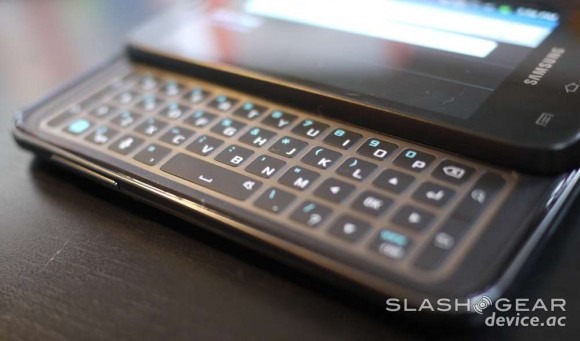 The keyboard is OK, certainly not on the same level that HTC has gotten to with such hits as the recent T-Mobile MyTouch 4G Slide, but not quite as tightly knit and difficult to type with as the Motorola DROID 3. It lights up for nighttime typing, and as with all extendable keyboards, the whole unit becomes much easier to play racing games with – racing games such as the greatest racing game available for the mobile platform today, Asphault 6, and what do you know – there it is pre-installed!
Software
While the fact that this device does have a pretty decent display and a keyboard for those of you not quite ready to take the plunge with on-screen keyboards just yet, the real power lies in the fact that this handset employs the NVIDIA Tegra 2 dual-core processor. While this processor may seem less powerful than some of its competitors as it is clocked in at 1GHz per CPU core, you'll see the results in these benchmarks say otherwise.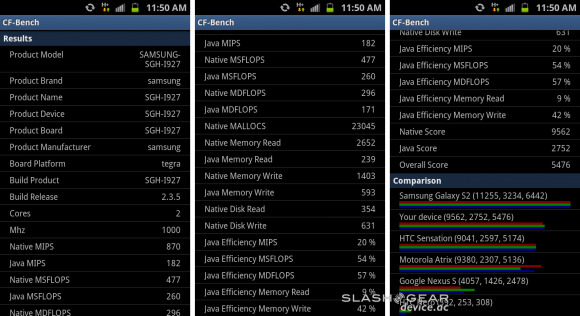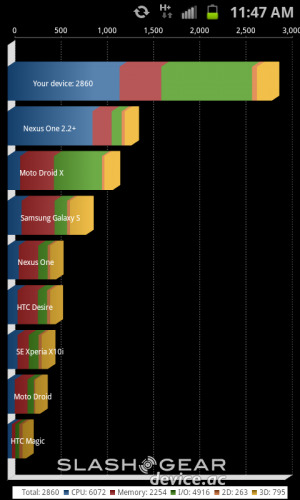 The Tegra 2 processor also affords you access to an elite set of games otherwise not available to those without said processor. These games can be found in the NVIDIA Tegra Zone as seen both online and on device as well. This means you'll be able to play Zen Pinball when its eventually released – yes!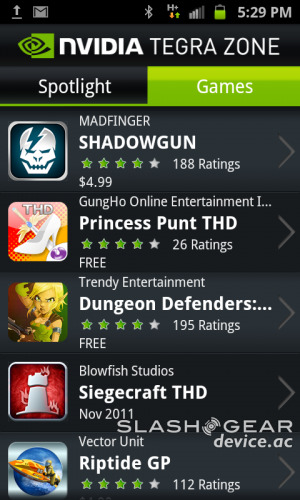 As for the user interface, you're using one of the newest versions of Samsung's TouchWiz as introduced back when the Galaxy S II lineup was revealed for the USA. This is Samsung's finest user interface over Android 2.3.5 Gingerbread yet, and your humble narrator has no complaints. Software is your usual set of Samsung and AT&T added applications as well as the Google standard fare including the Android Market, Gmail, and of course Maps.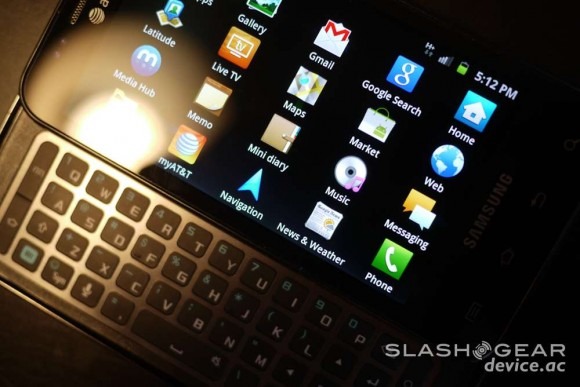 Pro-tip: as with essentially all recent Samsung handsets, you can take a screenshot by holding down your home key and tapping your power key. Slick!
Camera
The camera is 8 megapixels powerful and capable of 720p video, and while it doesn't have the massive amount of editing software built-in like HTC devices do, it does get the job done with some lovely results. Have a peek at a photo or two below and some 720p video as well, and mind the Target: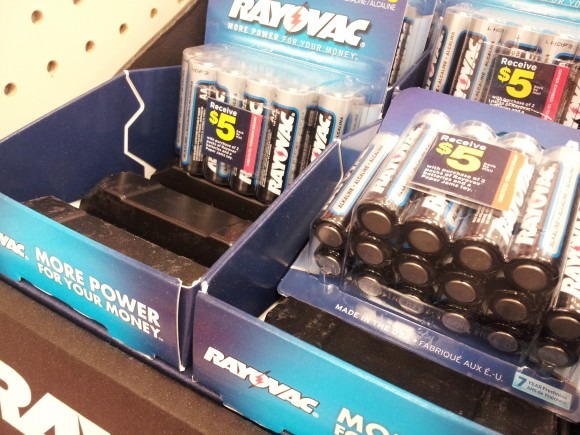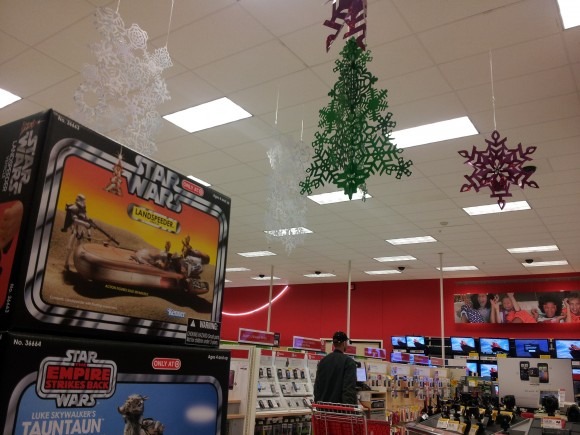 Battery
This device has a 1650 mAh sized battery inside and hasn't lasted any less than 10 hours on a single charge for me thus far while using the device for email, web surfing, and playing the occasional game. Playing streaming videos fares not nearly so well at 4-6 hours, but you'll likely be doing so with your MHL/HDMI converter cord (that you do have to buy separately) to output to your HDTV. That will have you charging at the same time as playing, so no worries!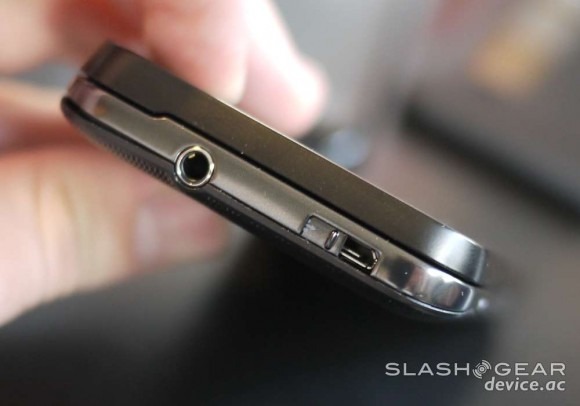 Wrap-up
This device is surprisingly high quality. There were only two moments when I had my doubts, one of them being when I put the battery in for the first time since the back cover is so very very thin, and the other when I first started to hit the power button and realized I'd have to find a new way to hold the handset because the slide-out keyboard wasn't held nearly as tight as it was on other recent keyboard phone models from other manufacturers. That said, once I got going, it all went well.
This certainly isn't the Galaxy S II, but it's pretty darn nice. Take a look at the brief comparisons in the videos above to other devices on AT&T right this moment, then see if you've got any other questions you'd like to ask and ask them in the comments below – we'll be sure to answer!