Samsung ATIV Smart PC Review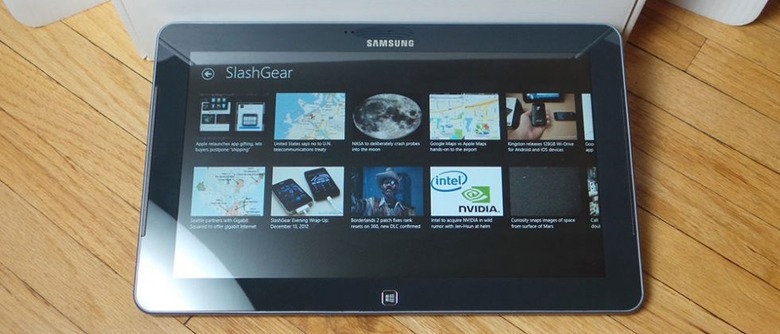 When a mobile carrier like AT&T picks up a device for sale that's as massive as the Samsung ATIV Smart PC with Windows 8, you've got to wonder who would be heading out to the same location they picked up their smartphone to pick up a PC. In this case it's more of a cross-over situation in which AT&T already carries tablets, and is here easing the public into the idea that they're going to be holding larger PC machines with a half-and-half beast like the Samsung ATIV Smart PC, itself a convertible tablet that can also be a notebook when you pick up the right docking accessory. At the moment we're limited to the tablet bit as the two are sold separately and the lower piece isn't up at AT&T quite yet.
Hardware
The tablet you're working with here is easily one of the higher-end units Samsung has ever produced – they've taken the successes of the Android lineup they've cultivated in the Samsung Galaxy Tab lineup and have brought it over to Windows 8 with a lot more boss energy. Here you've got a tablet that's not meant to be as thin or mobile, instead concentrating on the idea that you're going to be working with a backpack or a large carrying case to get this unit around, noting that it's a large tablet first, and mobile second.
You've got just about every sort of port and plug you could possibly want out of a tablet and then some, this unit working with a full-sized USB 2.0 port, SIM card port, microSD card slot (for 64GB more storage than you get standard inside (also 64GB)). You get two microphone holes (built-in, not for larger microphones) that bring some noise cancellation, and there's a microHDMI slot long the left.
There's a power button that also locks the display, a button that switches off/on the rotation lock of the display, and there's a set of three units you're going to want to be aware of if you plan on moving forward with the full notebook experience. The first is the center power port and surrounding it are two docking slots. The docking slots are safely covered up with plastic covers you'll never find yourself messing with unless you do indeed want to work with the dock, while the center power port stays open.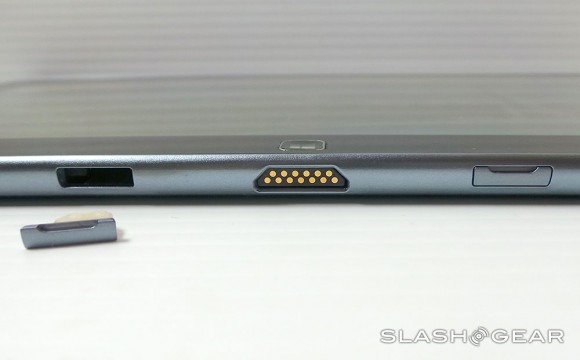 The back of the unit has an 8 megapixel camera and single LED flash while the front has a rather standard-quality camera for video chat. Inside you've got NFC, Bluetooth 4.0, gyroscope, magnetometer, ambient light sensor up front, accelerometer, wi-fi along a/b/g/n for 802.11, and you've got DLNA compatibility to top it all off. Of course you've got the gear inside to support AT&T's own 4G LTE network as well for super-quick data speeds.
The 11.6-inch display up front works with PLS technology for fabulous viewing angles galore, but the resolution (pixel-wise) isn't all that fabulous at 1,366 x 768. That's 135 pixels per inch and much lower than the tablet competition – compared to the notebook universe it's not half bad (unless you're talking "Retina" quality displays which are becoming more and more prevalent by the month.) If you've only ever used a desktop PC before and this is your first tablet, you'll be satisfied.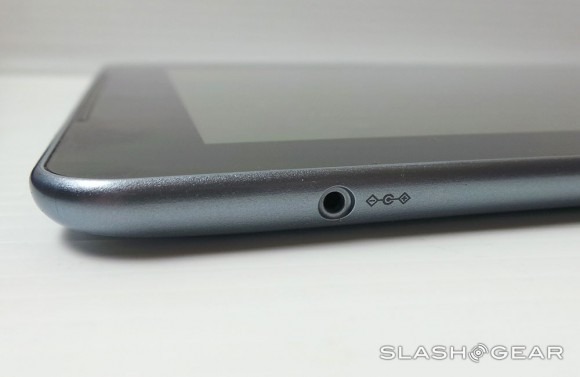 Inside you'll find an Intel Atom Processor Z2760, dual core at 1.8GHz with 2GB of LPDDR2 RAM. This machine weighs in at 744g and comes in White or Mystic Blue (Blue for sure if you're going for the LTE), and the tablet is 304 x 189.4 x 9.9mm on its own. It's not light, but it's certainly not the heaviest computer on the market at this physical size, and it certainly is comfortable to hold: Samsung has the curves that make your palms say "ahhh."
Software
Inside you've got a full Windows 8 experience with Samsung's twist on how you should be working with the touch-based universe. You've got the standard touch-UI interface up front with drag-up unlock and Windows 8 sign-in as well as all the touch-panels you can handle. This user interface is modified by Samsung in its Desktop mode where you've got a set of apps by the name of Easy Settings and Touch Supporter.

With Easy Settings you're able to access your Network, Display, and Input in one easy-to-use location. It's almost as if Samsung saw how Microsoft was handling user access to each of these vital areas and decided that they'd take it upon themselves to simply usher it all in on their own much more friendly plate. Network simply allows you to connect to wi-fi and your AT&T network via SIM card if you like, Display allows you to flip through a series of pre-set standard color tweaks for your screen, and Input turns your touchscreen off or on – simple stuff!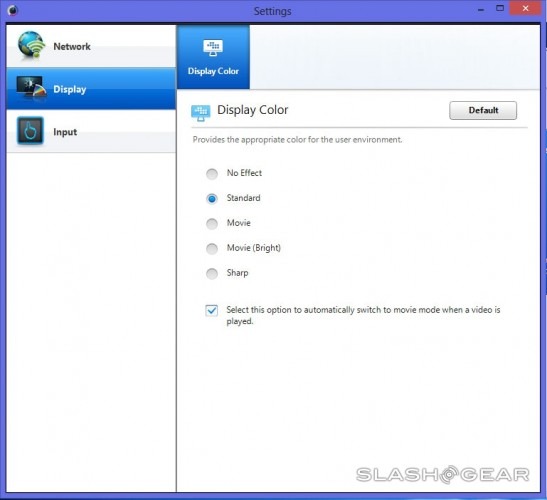 Touch Supporter is a rather un-intuitive addition to the touch interface that, again, feels like Samsung saw some holes in the Windows 8 touch environment and added a toolkit to keep you active as you were before you were relying on a touchscreen keyboard. You can use this toolkit to clip text, work with a floating keypad, and create some new key combinations for your onscreen keyboard.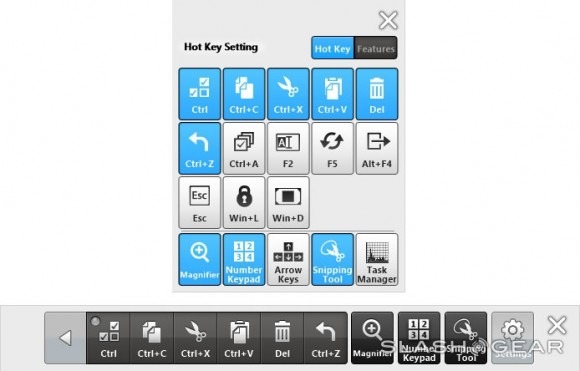 It's also worth noting that right out of the box if you're on your desktop and you want to type words into a window, you need to pull your charms out from the right side of the display, hit settings, hit keyboard, and kick your keyboard out from the bottom of the display. That's just about as many steps as it takes for me to say "no, thank you." An automatic pop-up keyboard might seem like a simple thing to those of you that use tablets on the regular with Android and iOS, but here in Windows 8 it doesn't seem to have been considered quite a top priority.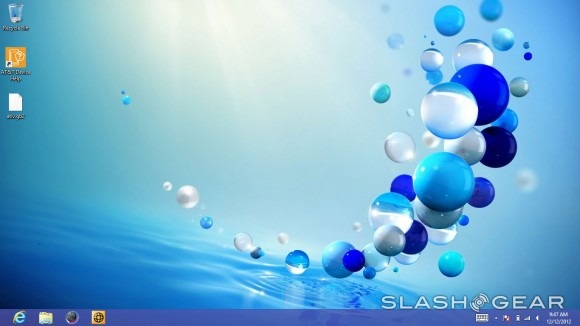 Beyond the quirks, it does appear that this machine is working relatively swiftly for a tablet – but compared to many notebooks working with essentially the same set of CPU and RAM specs we've got here, this machine takes second. Have a peek at the standard benchmark we've got lined up here with Geekbench and you'll find a device that's made for the standard tasks of today, but certainly not the most high-powered video games on the market by any means.
[sgbenchmark id=187 show=score]
Also have a look at some more of the innards of this tablet here in a system readout to get a good idea of where that score above came from.
[sgbenchmark id=191 show=system]
Camera
As it is with most tablets on the market, the camera on this device is made to be used sparingly. It's said to be knocking out 8 megapixels of greatness, but we've found just basic performance on the whole. Compared to what we know a Samsung Galaxy S III smartphone can do with its own 8 megapixel shooter, this is a bit of a let-down. Have a peek below at some photo examples as well as a video shot with the back-facing camera too.
Battery and Data Speeds
The battery conservation on this device appears to be quite good, with nothing short of several days of standby time being an easy task just so long as you've got your mobile data shut off and no wi-fi poking around. If you're streaming video using the LTE this machine works with exclusively, you'll be looking at more like 7 hours of playback time without the device being plugged in.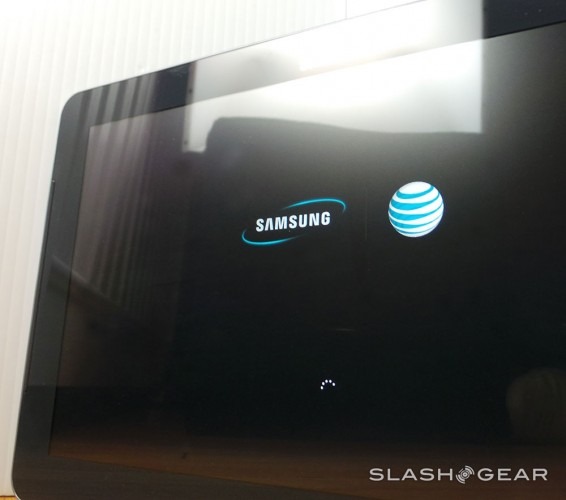 Data Speed ended up being extremely similar to each of the Android smartphones we've tested recently with similar abilities. AT&T 4G LTE appears to be maxing out at 12Mps down in Arizona while up in Minnesota it's closer to 7Mbps down on average. Upload is closer to 2Mpbs in Minnesota and 7Mpbs in Arizona. We've got a few conflicting reports of 12Mbps or more on average for both up and down depending on the region – NYC, for example – but we recommend you try the device in your local AT&T store to see data speeds before you buy if it's extremely important how fast you go up and down!
Wrap-up
This machine is a PC without a keyboard attached to it – while we've yet to see the keyboard attached for any long amount of time, we're confident that the full experience will be somewhere between a mobile tablet and a full Ultrabook-type-situation. The userbase for this device specifically will be small – we're not quite sure that $700 USD or more on-contract or off will be worth the amount you're dropping when you've got alternatives like the Samsung Galaxy Note 10.1 up for sale for significantly fewer dollars.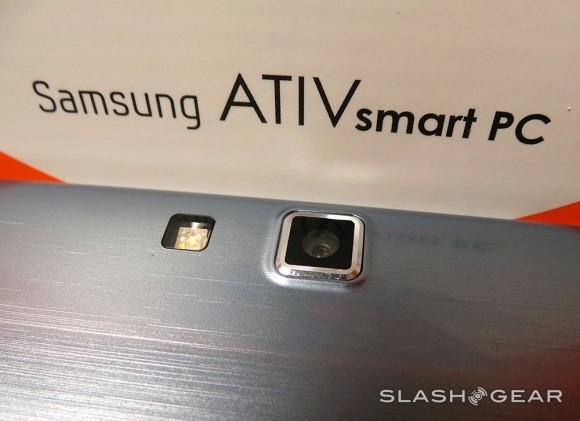 Of course the Samsung Galaxy Note 10.1 isn't quite as "powerful" as the ATIV Smart PC, and you'll have no Samsung-made standard keyboard to clip into, but you've got the pen that was promised as well as support from the super-diverse Google Play app store to boot. Here with the ATIV Smart PC you've got Samsung taking a media-ready swing at Windows 8 with a tablet form-factor that's perfectly legitimate for the average Windows 8 lover. If you need hardcore PC power, this isn't it. If you want Samsung's vision for a Windows 8 tablet, this is the best you're going to get at this very moment.