Saitek's New Cyborg Keyboard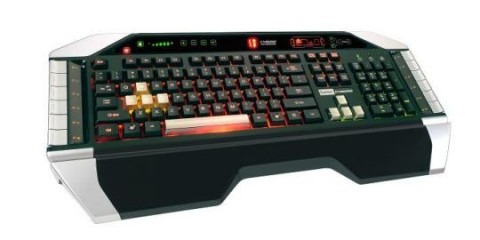 No gamer can resist all that shiny equipment that comes with the top of the line accessories. I have a lighted keyboard that I love, but it only lights up in one color. Now that this is coming out, I'm afraid my keyboard is going to end up in the bin full of gadgets that are no longer needed.
The Cyborg keyboard divides its lighted sections, one being the WASD keys , the other letter keys, the number pad and the arrow keys. You can change each zone's color and brightness. The best part is the WASD keys, arrow keys and space bar are metal plated. Making the keys much more durable as well as giving them a a different look from the rest of the keys.
The keyboard also includes two USB jacks, a microphone jack and an audio/headphone jack. The side keys can be programmed with custom commands and macros for certain games. The keyboard will come out in March and the suggested retail price is set for $80.
Customize your colors with Saitek's new Cyborg keyboard [via cnet]