Roomba makers iRobot trialling RP-VITA medical robot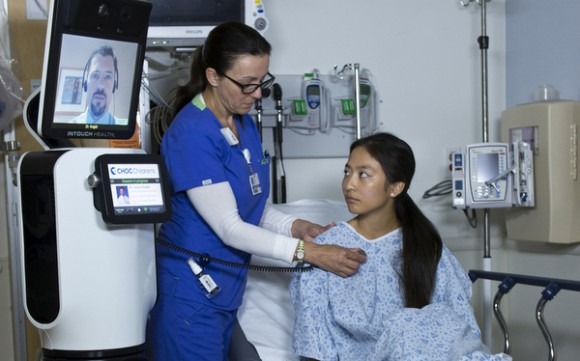 iRobot, the creators of the popular Roomba cleaning robot, have created a medical assistant dubbed RP-VITA (Remote Presence Virtual + Independent Telemedicine Assistant) aimed at being used in hospitals. RP-VITA is the result of a $6 million investment in InTouch, with the robot able to navigate hospitals using a myriad of sensors, such as sonar, a laser range finder, and two cameras. The robot is also able to intelligently create a map of the designated hospital, although it's primarily navigated using a joystick by a remote doctor.
RP-VITA is designed to be used by a remote caregiver, able to hold video calls for around five hours via an included monitor and webcam. The robot can be controlled remotely using a laptop, desktop, or iPad, and is designed to be used in emergency situations so that doctors can get quick access to a patient. Information about patients can be pulled down over WiFi, and when not used for video calls the RP-VITA can access records via a medical cloud storage system. Just like the Roomba, it will return to a charging base when it needs more power.
The RP-VITA has all the sensors to navigate a hospital without any assistance, but it can't be used unaided until it's given the go-ahead by the FDA, which could happen by the end of the year. It isn't InTouch's first robot either: the company previously created the RP-7, reportedly at work in around 600 hospitals and serving 70,000 patients each year. RP-VITA, meanwhile, will cost hospitals between $4,000 and $6,000 a month to run.
[via Mashable]