Rollei rolls out a Trio of Carbon Fiber tripods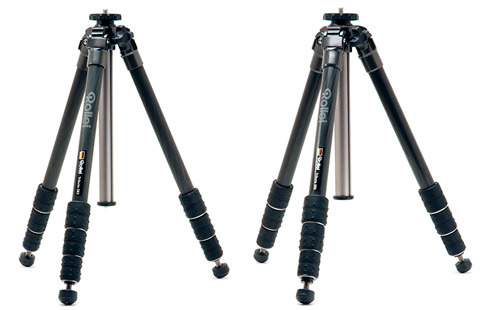 I'll confess; I've spend quite a fortune on tripods and low-level supports on my photography goodies, but it worth every penny. One of my Gitzo has been to sub-zero climate-challenge shooting grounds but it never failed me. Many Chinese counterfeits mimic the Italian designs but they are not the same. Here's another design looks closely resembling the likes of Gitzo but make no mistake; it comes from a birthplace origins of many well-known photography markers, including the Gitzo.
The German-based Rollei has released a trio of high rigidity and light weight tripods made out of seven-layer carbon fiber structures. Multilayer Carbon fiber construction is great for reducing weight yet increasing product durability. The tribute is five-Layer shorts compare to Gitzo but at half the price, it might worth a look.
The Rollei Tribute features twist locking mechanism, 4 section legs and has short center column. The specification of Rollei Tribute tripods are as followed:
Lo Lai S-081 : weight 2.65lb, Load 6.61 lb, height 140cm, 26,250 yen ($283)

Lo Lai M-083 : weight 3.15lb, Load 11.02 lb, height 140cm, 28,350 yen ($306)

Lo Lai L-086 : weight 3.88lb, Load 15.43 lb , height 140cm, 31,500 yen ($340)
via Impress