Roku unveils new smart TV lineup, adds Sling TV and WatchESPN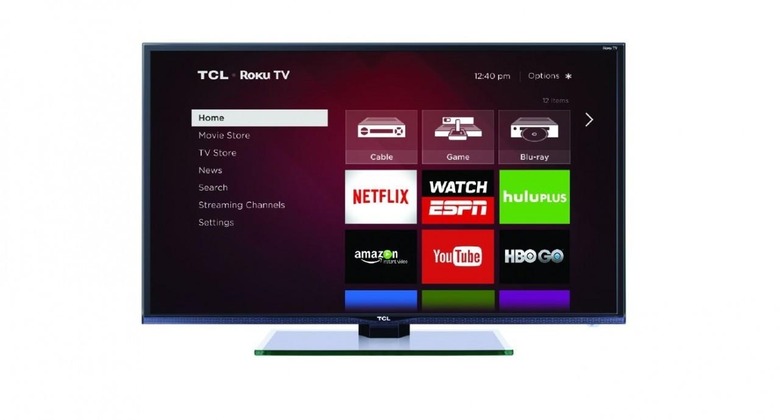 In August 2014, news surfaced that Roku's TV platform would be finding a home on TCL and Hisense televisions, and this morning Roku announced the second-generation version of those TCL Roku TVs. There are a total of eleven new TVs spanning three new series, each of them tailored toward a specific kind of user and bringing with them the same general functionality. The 3700 Series in particular, composed of three relatively budget offerings, will be launching later on this month, while the other two series (3800 and 3850) will be arriving some time in the second quarter of this year.
The new Roku TVs will be part of the 3700 Series, which is a refresh of the previous 4610R models, the 3800 Series (which will be available in four sizes), and the 3850 Series, which will likewise be available in four sizes. This will give consumers a wide variety of different TVs from which to choose spanning different budget types and preferences.
The 3700 Series will feature three sizes: 32-inch ($219 USD), 48-inch ($429 USD), and 55-inch ($598 USD). The latter of the trio will have 1080p Full HD resolution and a refresh rate of 120Hz, while all three will feature HDMI-in and the Roku TV software platform. This is the most entry-level and budget friendly version, while the others are largely the same but with more notable designs.
The 3800 Series will offer 32-inch, 40-inch, 48-inch, and 50-inch offerings, none of which have been priced at this time, but all of which will feature Full HD with the larger three including a 120Hz refresh rate. This will be coupled with an ultra-modern design, according to Roku, including a quad-pedestal stand. The 3850 Series is nearly the same, including 32-inch, 40-inch, 50-inch, and 55-inch offerings decked out with a metallic finish and quad-pedestal stand.