Rock Band - Final Set list revealed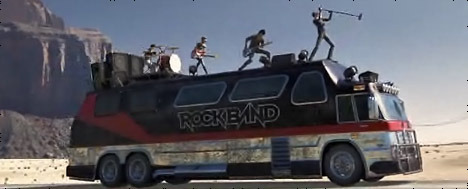 Ever so slowly Harmonix has been releasing tracks for the upcoming Rock Band title. Well they've finally spilled the beans on all of the main tracks. That's not to say that there aren't some bonus tracks still waiting to be announced, but as far as the main songs go, the entire list is after the jump.
They've got a really wide selection dating back to the 1960's with Rolling Stones all the way up to new stuff like NIN and Jet. The best part is that while these 45 songs are the only main tracks that will be included on the list, you can expect fresh DLC every week, including full albums such as Metallica's One. The full track listing is below.
1960s

Rolling Stones "Gimme Shelter"1970s

Aerosmith "Train Kept a Rollin'"*

The Who "Won't Get Fooled Again"

Boston "Foreplay/Long Time"

Mountain "Mississippi Queen" (cover)

The Police "Next to You"

David Bowie "Suffragette City"

Black Sabbath "Paranoid" (cover)

Blue Oyster Cult "Don't Fear the Reaper"

The Ramones "Blitzkrieg Bop"

Deep Purple "Highway Star"

KISS "Detroit Rock City"

Molly Hatchet "Flirtin' With Disaster"

The Outlaws "Green Grass & High Tides" (cover)

Sweet "Ballroom Blitz" (cover)

1980s

Rush "Tom Sawyer"*

Bon Jovi "Wanted Dead or Alive"

The Clash "Should I Stay or Should I Go"

Faith No More "Epic"

Pixies "Wave of Mutilation"

R.E.M. "Orange Crush"

Iron Maiden "Run to the Hills" (cover)

1990s

Foo Fighters "Learn to Fly"

Metallica "Enter Sandman"

Nirvana "In Bloom"

Stone Temple Pilots "Vasoline"

Weezer "Say It Ain't So"

Smashing Pumpkins "Cherub Rock"

Radiohead "Creep"

Beastie Boys "Sabotage"

Hole "Celebrity Skin"

Garbage "I Think I'm Paranoid"

Soundgarden "Black Hole Sun"

2000s

The Hives "Main Offender"

Queens of the Stone Age "Go With the Flow"

The Strokes "Reptilia"

Jet "Are You Gonna Be My Girl"

OK Go "Here It Goes Again"

Nine Inch Nails "The Hand That Feeds"

Yeah Yeah Yeahs "Maps"

Red Hot Chili Peppers "Dani California"

Coheed & Cambria "Welcome Home"

Fallout Boy "Dead on Arrival"

The Killers "When You Were Young"

New Pornographers "Electric Version"

Unlockable Tracks

Bang Camaro "Pleasure (Pleasure)"

Twelve more yet to be revealed