Ricoh has yet another camera announcement this month, this time for the rugged WG-M2 action camera. Though small, this camera packs several notable features including 4K Ultra HD video recording and an ultra-wide-angle lens. Despite the improvements, the camera is 40-percent lighter and smaller than the previous WG models, says Ricoh.
The new Ricoh WG-M2 features a rugged design housing a 1.5-inch color display for viewing footage. The onboard image sensor can take still images up to 8-megapixels and can record video at up to 4K/30fps, 1080p at 60fps, or 720p at 120fps. There are video effect modes included for changing the style sans having to use a computer.
Joining the video effects are some integrated "simple" video editing tools to perform in-camera editing, though you won't be able to do anything too drastic.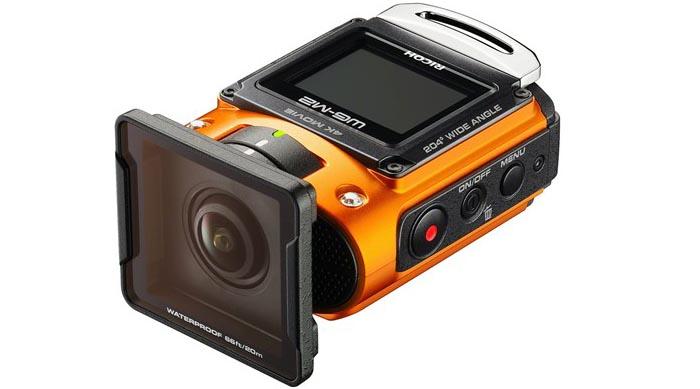 The camera can be attached to various camera mounts and accessories, including the one shown below. Among the optional accessories is a silicone protective skin and a new case designed specifically for the camera. The camera itself is waterproof to depths of up to 65ft, one of the deepest ratings among its kind, and it is shockproof from heights up to 6.5ft. As well, the camera can handle temperatures as low as -10C/14F.
Finally, the WG-M2 supports recording video in the proper upright orientation even if the camera is mounted sideways or at an angle, one of the most annoying issues with some competing action cameras.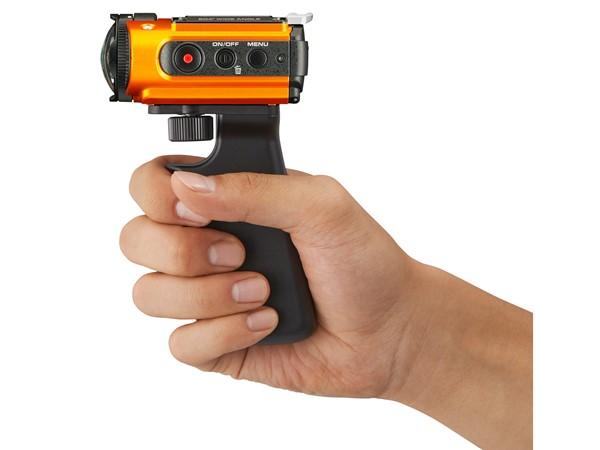 Said Ricoh's President Jim Malcolm:
This camera is simply best in class, both in terms of image quality and ease of use. The WG-M2 is one of the smallest and lightest cameras in the market. It's more than an action camera. The WG-M2 is compact and durable; with a large color LCD to frame and enjoy top-quality images and 4K Ultra-HD video. It also comes with a host of features that make the camera extremely easy to use, which is critical when you're capturing life.
The Ricoh WG-M2 will be available this upcoming April for $299.95 USD.