Revolv home automation hub hits preorder: Controls Sonos, Hue, more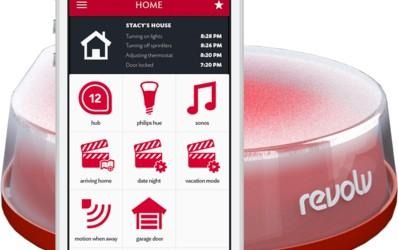 Multi-platform home automation hub Revolv has gone up for preorder, offering a $299 way to harness your Sonos, Hue lighting, Yale automatic locks, and more, all from a single app. The smart home base-station – previously known as Mobiplug – packs a total of seven radios so as to communicate with a broad variety of popular remote-control kit, with support for automated macro routines based on your location, the current time, and more.
Currently, while streaming music systems like Sonos and wireless multi-color LED lighting systems like Philips Hue offer a more cost-effective way to get smart home functionality that might once have cost many thousands of dollars, there's no unified way to control them all. Instead, users generally end up with multiple individual apps, each suited to one platform but not any others.
Revolv aims to address that, by bridging the connectivity of multiple platforms into a single base station. According to the company, setup is effectively automatic once you've plugged it into a power supply: the hub scans first for the home WiFi network, then for any compatible devices, associating itself with them instantly if possible or, if not, with a simple "push button discovery" system.
As well as media and lighting, there's support for remote-controlled locks, smart thermostats, streaming CCTV cameras, garage doors, motorized blinds, and home entertainment devices like smart TVs. The Revolv app works around macros which the company calls LifeStories: these can be triggered manually, or by time of day, proximity, movement in the home, or other factors.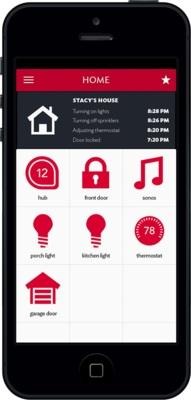 So, you could have your heating come on when you're five miles away from home, so that the house has time to warm up, and then have your lights and music start playing as you pull into the drive.
The Revolv team has even put together a Google Glass integration proof-of-concept, hooking the home automation hub into the wearable computer. That allows lighting, heating, and other elements to be controlled either by stroking through the headset's card UI or through spoken commands.
The Revolv Smart Home Solution hub is available for preregistration now, priced at $299, initially with three of its seven radios (WiFi, Z-Wave, and Insteon) active. The company tells us that it expects units to begin shipping this fall.