Reject circuit boards find a new purpose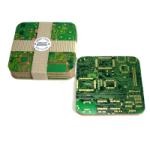 As I get older I find myself actually considering buying coasters. It's bizarre the things that change over time. Well, just because I have decided I might actually grow up in the near future doesn't mean I have to buy boring coasters. Which is where these Circuit Board Coasters come in.
I always love it when they create products with some extremely long name. Like this for example, the Revolves Recycled Circuit Board Coasters Gift Set. The title itself is practically a run-on sentence.
The coasters are recycled from reject and reclaimed circuit boards and are finished off with cork bases. The gift pack has 4 coasters priced at $22.
Recycled Circuitboard Coasters [via cribcandy]