Q-TV 2.1 speaker system hides behind TVs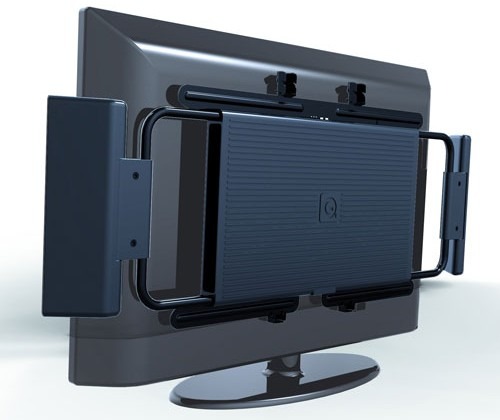 Most of the HDTVS on the market today are attractive devices that are fairly thin. Many people like to get an entertainment center that is just large enough for the TV to save room. That means there is little room left behind for speakers on the entertainment center.
Lot of people don't want speakers sitting on stands beside the TV making adding discrete speakers a challenge. Q Audio has announced a new discrete 2.1 speaker system that is called the Q-TV. The system has dual satellite speakers and a sub that attach to the VESA ports on the rear of the TV.
The sub is only 1.5-inches thick and the system has a total of 100W of power. Each satellite has two Balanced Mode Radiators and the subwoofer has four of the Radiators. The system will be at CES 2010 and pricing for the US is unknown at this time.