Project Tango hits Google Play, but isn't for sale (yet)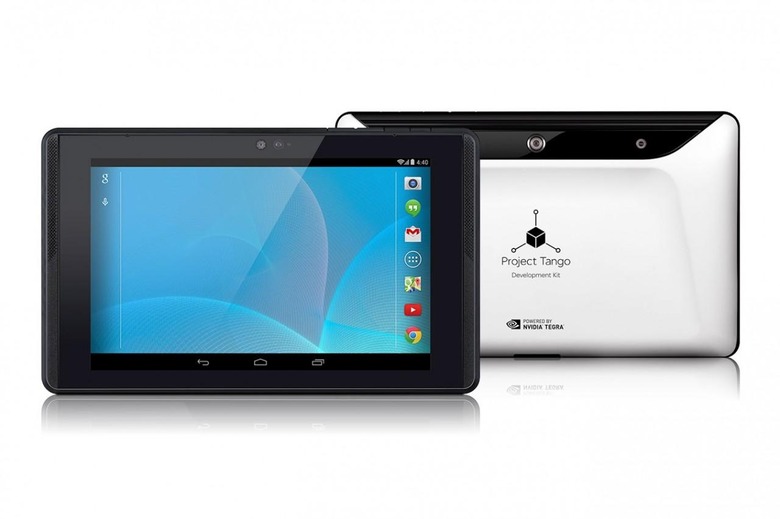 Google's Project Tango is an exciting look into the future of tablets, gaming, and just overall tech. The devices, via series of cameras and sensors, can map environments and objects in 3D. We knew Project tango would be made available "later" this year, but as time ticked away, we wondered if Google was just behind a bit. Turns out, they may not be. The Project Tango tablet has been discovered on the Play Store, but it's not quite ready for you to purchase yet.
The Play Store listing only describes Project Tango as "coming soon". There is also no price listed, and no date for availability. There is also a well-positioned disclaimer, stating that what you buy is what you get; beta products are not subject to warranty, it seems.
So, what do we know, officially? An NVIDIA Tegra K1 processor is on-board, as is 4GB RAM and a whopping 128GB storage (which we're sure will go quick). A 7-inch screen packs a 1920x1200 resolution and 323 ppi.
There is a 1MP front-facing camera with a fixed-focus IR LED. A 4MP sensor is on the rear of the Tango tablet. Tango also has a massive 4960mAh battery, and it comes in all black, or with a white rear cover.
In poking around, we also find the landing page isn't showing up reliably under "Devices", so the source link below might be the only way you'll find your way to Project Tango for now.
Source: Google Play
Via: Android Central