Professor X steampunk wheelchair isn't powered by thought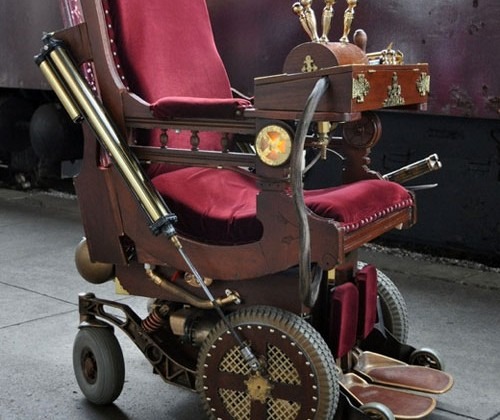 I can appreciate the time and creativity it takes to pull off some of the steampunk projects we see now and again. One of the latest is a steampunk interpretation of the wheelchair Professor X of the X-Men uses to get around.
The thing is made from a 150-year old rocking chair that the maker, Daniel Valdez, upholstered himself. The works of the powerchair is a modern power wheel chair that your grandmother or grandfather might need to get around. Those long brass pistons are old pieces that worked the bellows in an iron works factory.
The tubes on the back are filled with vodka and cranberry juice says the maker and the tank on the bottom back of the chair is an ice chiller to chill said vodka and cranberry juice. The tap on the side is strategically placed to allow the user to get a drink without standing up. This may be the perfect mode of transportation for those who don't like to walk and drink. The sound effects the thing makes are powered by an Adafruit Waveshield.
[Via Adafruit]