Porsche Design P'6520 watch hides a compass under the face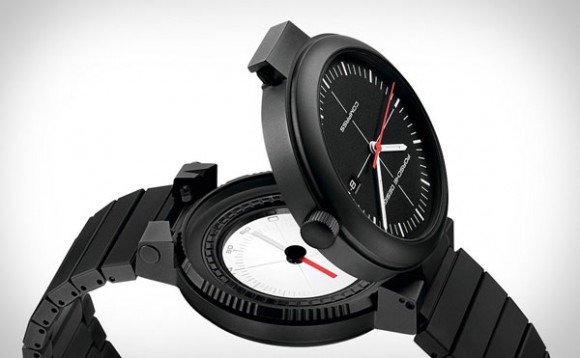 Porsche Design works with all sorts of things from external storage to bongs. The stuff that Porsche Design cranks out is generally very nice looking and very expensive at the same time. The design firm has some really cool wares to its credit and I really like the new product that has surfaced from Porsche Design today called the P'6520 watch.
This watch has very clean and classic lines with little to bling it up. The watch has a black band and face with white markings and hands with a red second hand. It shows the date as well. The face of the watch flips up to reveal a compass underneath. The case is made from titanium and the crystal is AR-coated sapphire.
That liquid compass in the bottom is removable, will work in both hemispheres, and has mirrors to make it viewable. Those mirrors click into place to let you see the compass from the side when the watch is on your wrist. It is water resistant to 50-meters. Pricing on the watch is unannounced, but it won't be cheap.
[via Uncrate]