Low-power screen experts Pixel Qi have teased a new iPad matching panel, equalling the Retina Display resolution but delivering "massive power savings" on Apple's technology. "We at Pixel Qi loved the Apple iPad3 screen, but were shocked by the overheating reports and the massive power draw (8Watts?!)" company founder Mary Lou Jepsen observed on the company blog. "We can now announce that we can match or exceed the image quality of the screen in the iPad3."
"We have a new architecture that matches the resolution of the ipad3 screen, and its full image quality including matching or exceeding contrast, color saturation, the viewing angle and so forth with massive power savings" Jepsen continued. "We even added a very low power mode that runs at a full 100X power reduction from the peak power consumed by the iPad3 screen."
Pixel Qi illustrated the various advantages of its new panel in the following graph, which shows the iPad 3 Retina Display – running at 2048 x 1536 – in red and the newly proposed Pixel Qi panel in green. As is clear, power consumption is dramatically lower: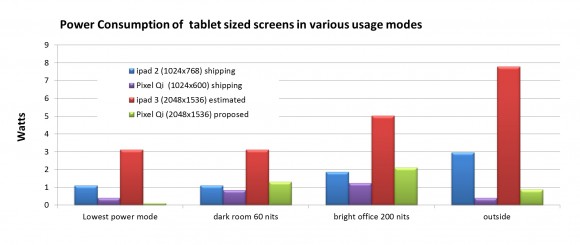 A byproduct of the OLPC project, Pixel Qi uses a type of transflective display that can actually appear brighter when viewed in direct sunlight. By relying on the ambient light, backlighting can be reduced or even shut off altogether, saving power while still allowing for the display of full-color, video-capable content.
"We are finalizing our partner(s) on the development of this new screen family and the sizes we will make it in" Jepsen concludes, with no word on exactly what sort of timeline we can expect. Still, the prospect is a highly tempting one: considering Apple squeezes around ten hours from the current tablet, a model which lasts many times longer could only be a market hit.