Philips GoGear Connect hands-on [Video]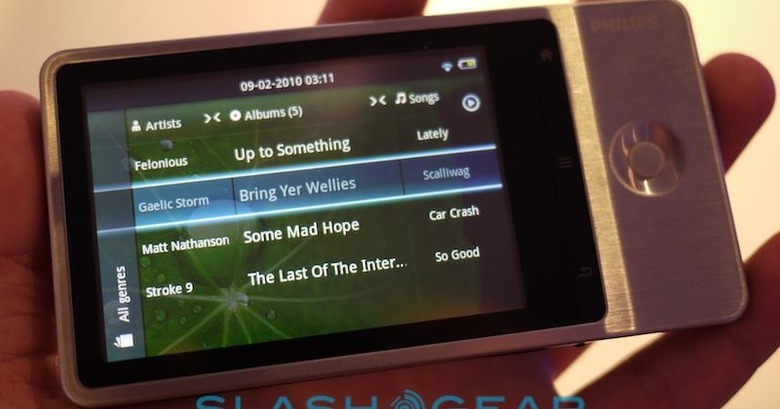 Philips' GoGear Connect PMP was meant to make its debut here at IFA 2010, but the company took the wraps off a few days early after leaks. We grabbed hands-on time with the Android-based media player today, and – after a somewhat glitchy start – found it's actually a decent attempt to twist Google's OS into a more narrow focus of device. Check out our first impressions and some video after the cut.Video demo after the cut
Smaller than an iPod touch and, at 3.2-inches, using a smaller, non-multitouch display, the GoGear Connect feels more phone than PMP in the hand.  In fact, with a microphone and speaker, together with full access to the Android Market, it'll happily load a VoIP app and allow for calls over WiFi b/g/n.  Other connectivity includes Bluetooth 2.1 and USB 2.0, plus there's a microSD slot (for up to 32GB cards) that augments the 8GB, 16GB or 32GB of internal storage.
Philips has included a trackball for navigation, but most of the time it's easier to use the touchscreen.  The homepage has three swipe-sliding panes onto which you can place shortcuts in the usual way, but there's no dragging down on the status bar like on an Android phone.  Preloaded are Google's own apps, together with Philips' own media software for audio, video and images.  The former is a brilliant example of how music management can be done right – three columns shift intuitively through artist, album and tracks – and we wish Google would "borrow" it for native Android.  Other neat touches include the equaliser, which maps the various presets on a pane suggesting which frequencies they emphasize and minimize.
The browser is pretty standard, though of course misses multitouch, while Google Maps gets the benefit of true GPS.  You'll obviously need a WiFi connection, which does somewhat limit its effectiveness on the move.  App switching performance is reasonable, with only minimal lag, though the demo units we tried did show a tendency to crash; still, given Philips only had a couple of GoGear Connect models on hand, they were probably feeling the strain.
Philips preload Android 2.1, but say they're working on Android 2.2; no timescale for that, and they wouldn't comment on any possible plans to produce an Android tablet.  With prices set to kick off at €249 ($320) it's not cheap, but we're looking forward to playing with a review unit for a longer period to see if it can live up to the high standard set by Apple's iPods.
[vms 95d0196f61d45b26ef33]