Pentax K-7 shows up in wild, hours before official launch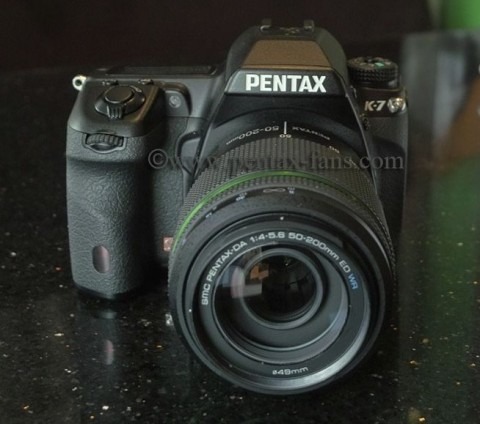 After the official press shots yesterday, now come the images of the Pentax K-7 DSLR in the wild.  Over at Pentax-Fans.com they've somehow scored a K-7 ahead of the launch tipped to take place in around two hours time.  Their hands-on confirms the 14.6-megapixel sensor and PRIME II imaging engine, together with HD video recording at up to 1080i/720p resolution.
They also have shots of the main menu functionality, including copyright auto-embedding, the various AF modes such as face-detection, and even a new battery-type selection menu.  The K-7 is capable of 5.2 frames per second continuous shooting, plus there's a new 77-Segment Multi-Pattern metering system, face recognition, contrast-detection AF and a maximum shutter speed of 1/8000th of a second.
So far unexplained settings include "Movie Info Overlay", which seems to imply on-screen legends for HD video recording, and "HDR Capture", which isn't functional in their early firmware (0.2) version.  Still, we should know all about it very soon; the Pentax K-7 DSLR is expected to be announced at 10am EST today.
[Thanks Bradley D.!]