Pentax K-30 offers weatherproofing from $850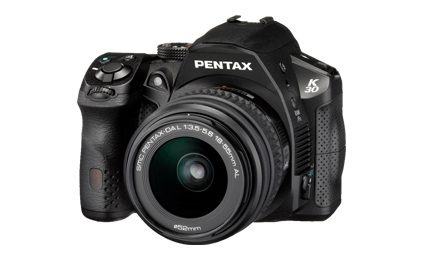 Consumers are definitely spoilt for choice when it comes to DSLRs, and here's another one for you to consider from Pentax. The K-30 should prove somewhat tougher than the average DSLR thanks to its weatherproofing. The company says the K-30 is resistant to dust as well as the colder elements, with "every seam [and] every button" sealed to provide protection while still managing to maintain a lightweight and sturdy body.
As for the crucial specs, they're comparable to what you would find from competitors – a 16.28 megapixel sensor, ISO 100 – 25600, 1/6000 shutter speed, and 1080p video recording at 24, 25, and 30 frames a second. A high speed burst mode is included which captures six photos per second, and the glass pentaprism ensures you have a 100% field of view.
How much will you be paying for this particularly DSLR? $849.95 for the body only, or $899.95 for a kit which includes a 18-55mm zoom lens. In addition, there's a 50mm f/1.8 telephoto lens that will set you back $250. All options should be available to pick up starting from July.