Paul Allen patent suit refiled: App Store, iTunes, Gmail & more all cited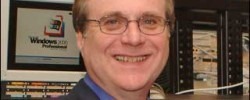 As expected, Paul Allen and his legal team have resubmitted a revised legal suit in its broad-ranging patent infringement case, after a judge threw the previous version out of court for being insufficiently detailed. Allen claims Apple, Google, YouTube, Facebook, Yahoo, AOL, eBay, Netflix, OfficeMax and Staples all impinge on patented tech developed at short-lived investment Interval Research Corp.; the new submission details specific products and services each defendant offers that the lawyers believe impinges on the patents. In Apple's case, that includes item-comparison functionality in iTunes, Apple TV, the App Store and the Dashboard.
Google's supposed infringements are even more comprehensive, with Allen suggesting that Google search, Gmail, Google Finance, Google Videos, Google Maps, Orkut, Google Books and the Adsense system all fall foul. In the previous version of the filing, Allen and his team had not sufficiently specified which technology was being contested, Apple and Google had argued, and the judge gave until December 28 2010 for a revised suit to be filed.