Pano 'zero client'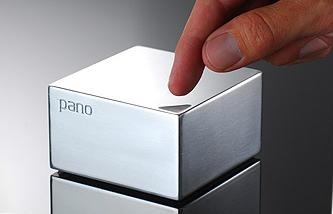 Sadly, this gorgeous little Pano "zero client" is not intended for the desktops of you or I, but for the endlessly-repetitive cubes of big business.  The 12-cubic-inch box has no memory, operating system, drivers or moving parts, but instead funnels everything over a wired network from a virtualized server.  That way it's cheaper than deploying even a basic PC to each worker, and more environmentally sensible too: each Pano uses just 3-percent of the electricity a standard computer needs.
Already on sale in the US, the Pano is now being offered to European customers.  Ports and controls are minimal: a power button, ethernet port, D-sub VGA output, audio in/out and three USB 2.0, together with an internal speaker.  There's no software on the Pano device itself, and the server management software can be used to limit what USB devices are recognized (no memory keys, for instance, or the ability to read from an external DVD drive but not write); should it get stolen, there're no data loss concerns as nothing is stored locally, and traffic across the network is encrypted.
I'd love to see a home version of this.  Right now, the sums seem to work out for business users but it's not really set up for domestic installations.  More details at the Pano site.
Press Release:
Nebulas Solutions Group's Sexy Silver Cube to Revolutionise Your Desktop!

Nebulas Solutions Group is launching a sexy silver cube which will revolutionise the traditional desktop PC.

The Pano Virtual Desktop device is a zero client, designed specifically to replace traditional PCs with a cost effective, green and highly secure virtual desktop. As such, the unit itself has no memory, operating system, drivers or moving parts. Instead, the shiny silver cube connects keyboard, mouse, display, audio and USB peripherals over an existing IP network to a virtualised server.

In addition to its stylish appearance, the 12 cubic inch Pano brings tangible benefits to companies looking for a cost-effective alternative to the traditional PC. By moving software from the desktop to the server, Nebulas Solutions estimates that the total cost of ownership could be up to 70% less than a traditional PC over three years. As the device consumes only 3% of the power needed by a desktop computer; it is a far more energy efficient alternative.

Nebulas Solutions' managing director, Nick Garlick sees the Pano as the future of desktop computing.

He commented: "The Pano and virtualisation technology will revolutionise the desktop. Given the overwhelming advantages in terms of power, cost and management savings, it's difficult to see why organisations wouldn't want to implement it. We're looking forward to launching Pano in the UK; it further strengthens our expanding virtualisation business and should see us making significant inroads into the burgeoning virtual desktop market."

As the Pano relies entirely on a virtualised server infrastructure, it is stable, consistent and secure. It can be managed easily from a central point, whether than be an in-house IT team, national data centre or remotely from anywhere in the world. As such, desktops can be upgraded and installed centrally, eliminating the cost of physically visiting desktops and enabling IT teams to focus on more strategic activities.

With no embedded software, the device offers real security benefits: IT departments can create directory-level policy on who can access which applications and data, install new applications and can download data onto removable media. Additionally, if the Pano cube is stolen, the security risk to the wider organisation is minimal, because the device holds no local data, applications or files.

The Silver Cube has already achieved considerable success in the US, being recognised as "Best of the Best" in the prestigious Red Dot Product Design awards and being a finalist in Red Herring magazine's Top 100 Most Promising Companies Driving the Future of Technology.

Nick Garlick added: "As well as a revolutionary product, the Pano has the "wow" factor that makes everyone want one when they see it! Initially, I'm sure that customers will be attracted by its appearance, but as they learn more and appreciate its technology, I'm confident that will have even greater appeal. The Pano also fits very well into our business strategy; we partner with innovative technology companies and in Pano Logic, we've certainly found a like-minded organisation."

Commenting on its European expansion, Benjamin Baer, the company's VP of Marketing said: "Nebulas expands our reach in the UK, and will help bring our complete VDI solution to organisations looking for ways to leverage their existing virtualisation infrastructure. We look forward to partnering with them, and helping promote Pano's benefits to end-users looking for a viable, more cost-effective alternative to the traditional PC."

About Nebulas Solutions Group:

Nebulas Solutions Group is a security, acceleration and virtualisation specialist.

Formed in 2001, Nebulas Solutions Group offers sophisticated technology solutions, consultancy and implementation expertise to help organisations address the key business issues of data security, acceleration and availability.

Nebulas Solutions Group comprises three divisions: Nebulas Security is the UK's leading provider of IT security, data privacy and compliance solutions. Nebulas Xcelerate provides leading WAN optimisation and applications acceleration solutions and Nebulas Virtualise offers market leading virtualisation solutions. The Group's combined expertise ensures that organisations can maximise the performance, efficiency and security of their IT infrastructure, as well as reducing operating costs.

Based in London, Nebulas Solutions Group has more than 200 customers worldwide, including many blue chip and FTSE 250 organisations. For further information, go to http://www.nebulassolutions.com

About Pano Logic:

Founded in 2006, Pano Logic develops virtualisation-based software and hardware solutions that deliver superior desktop computing. The company is privately held, and backed by leading investment firms ComVentures, Foundation Capital and Goldman Sachs. Pano Logic is headquartered in Menlo Park, California and has an office in Toronto, Canada. For more information about Pano Logic, visit http://www.panologic.com
[via AVING]