Panasonic VIERA HDTV Skype arrives in US with $170 webcam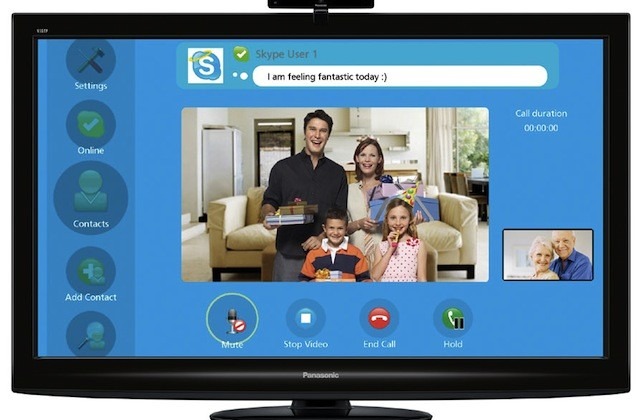 Panasonic's Skype camera for the company's VIERA HDTVs has crossed over from Japan and arrived in the US.  Activated today on select VIERA CAST enabled Panasonic 2010 HDTVs, the Skype functionality allows for voice and video calls to be made direct from the TV itself, including SkypeOut and SkypeIn support and voicemail.
The Skype functionality is available on Panasonic's VIERA VT25, VT20, G25, and G20 Series sets; however you won't be able to plug in any old generic USB webcam.  Instead you'll need the Panasonic TY-CC10W, a $169.95 peripheral that comes complete with four unidirectional microphones, an echo canceling system and audio processing, together with a wide-angle lens to capture everyone who's sat on the sofa with you.
We're not particularly impressed by the proprietary camera, but 1280 x 720 resolution 22fps video chats direct from your HDTV are pretty impressive.  The camera is on sale now.
Press Release:
PANASONIC AND SKYPE GO LIVE WITH VOICE AND VIDEO CALLING ON 2010 VIERA CAST-ENABLED HDTV MODELS

Panasonic's Skype-enabled Communication Camera

Now Available at Retail

SECAUCUS, NJ (May 18, 2010) – Panasonic, a worldwide leader in High Definition technology and built-in TV web entertainment, and Skype, today announced the activation of SkypeTM on your VIERA® on 2010 Panasonic VIERA CASTTM enabled HDTVs as well as the availability of Panasonic's Skype-enabled communication camera (TY-CC10W). The collaboration with Skype, a leading provider of Internet communications software, was announced in January at the International Consumer Electronics Show.

The addition of Skype to Panasonic's VIERA CAST IPTV1 offerings allows owners of 2010 VIERA CAST-enabled Panasonic VIERA Plasma HDTVs (VT25, VT20, G25, and G20 Series) to make voice and video calls to family and friends2 from the their living rooms directly through their Panasonic VIERA HDTV using Panasonic's Skype-enabled camera3 (TY-CC10W) which is sold separately (SRP $169.95).

"Adding Skype to Panasonic's VIERA CAST IPTV offerings takes the role of the television to whole new level for consumers," said Henry Hauser, Vice President, Panasonic Display Group. "Panasonic's VIERA CAST-enabled HDTVs have truly become the hub of communication and connectivity in the consumer household enabling users to talk live via video to their family and friends right from the comfort of their couch."

"Panasonic prides itself on listening to our customers and when talking to them about enhancements to our VIERA CAST offerings, Skype was prominently mentioned," said Hauser. "Panasonic is extremely pleased to work with Skype to deliver this unique, high-value feature to VIERA owners."

"A family can now simply turn on their TV set, gather together on the couch, and talk to loved ones face-to-face. It's easy to use and is now available for the masses thanks to a strategic collaboration between Skype and Panasonic," said Jonathan Christensen, general manager of Skype Platform. "Launching TVs that are Skype-enabled with Panasonic is a big milestone for us, and part of our strategy to deliver Skype beyond desktop and laptop computers."

The launch of Skype on your VIERA on 2010 Panasonic VIERA CAST-enabled HDTVs will also be supported as part of Panasonic's new VIERA HDTV advertising campaign. The Skype on your VIERA television ad is expected to air beginning in early June on local Network TV, national Cable TV and DirecTV. For a sneak peek at the ad, please visit http://www.youtube.com/panasonicusvideos.

Skype on your VIERA® delivers many familiar Skype features including:

Free Skype-to-Skype voice and video calls

Calls to landline or mobile phone at Skype's low rates

The option to receive inbound calls via a user's online Skype number

Skype voicemail (set-up required)

Being invited to participate in voice conference calls with up to 24 other parties

With more than 560 million registered users, Skype is well known for providing free voice and video calling for people on Skype around the world. Calling on Skype now accounts for 12 percent of the world's international calling minutes according to TeleGeography.

Skype on your VIERA, in addition to providing a larger screen, gives the user the benefit of high definition video at up to 1280x720 resolution at a maximum frame rate of 22 fps. Skype on your VIERA also features VIERA CAST's easy-to-use GUI that is operable from the TV's remote.

The Panasonic TY-CC10W Skype-enabled camera is the only camera that enables access to Skype on your VIERA video calling features. The camera features four unidirectional microphones, echo canceling system, and audio processing for collecting voices in the living room environment. The camera also features beam-forming technology to record clear audio over typical TV viewing distances of 3-4 meters. The TY-CC10W delivers a wide viewing angle, making it possible for more people to take advantage of the Skype application. The camera plugs in to VIERA CAST-enabled 2010 Panasonic VIERA HDTVs via a USB port. To further increase the versatility of the camera it can either be placed in the center on top of the VIERA HDTV or the camera's stand can be used to place it on a table or wherever the user would like to place the device.

VIERA CAST, Panasonic's proprietary IPTV functionality, enhanced the user experience for 2010 by adding USB connectivity, allowing for the addition of a wireless LAN adaptor, keyboard and USB memory. With the continuation of such favorite entertainment sites as Amazon Video-on-Demand™, YouTube™, Google's Picasa™ Web Album, Bloomberg and a weather service, VIERA CAST for 2010, in addition to the inclusion of Skype on your VIERA service, provides the consumer with access to such targeted sites as Netflix™, Pandora, Twitter and Fox Sports. VIERA CAST requires no external box or PC. VIERA CAST is accessed via a single button on the television remote control and there is no fee to use the VIERA CAST functionality (some VIERA CAST services such as VOD have a separate fee structure).