Panasonic goes 3D at IFA 2010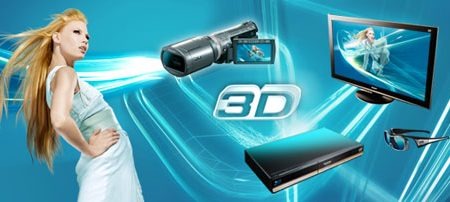 With IFA 2010 underway over in Germany there is lots of gear being unveiled at the show. Panasonic is focusing on 3D as its theme at the show this year and has been showing off its 3D wares along with some 2D offerings too.Panasonic is showing off devices like the HDC-SDT750 3D camcorder at the show and the company has new 3D Viera flat panel TVs that are on display. What may be the coolest thing at the show from Panasonic is a monster 152-inch plasma 3D TV that I really need in my house. I don't even want to know how expensive the thing is.
Viera TVs in a range of sizes from 19-inches to 65-inches are on display and Panasonic is showing off the new full HD TV with 3D tech and NeoPDP high-performance 3D processing. This NeoPDP processing claims to be able to deliver a cinematic 3D viewing experience in the home. Several Lumix cameras are being displayed at the show include the new HM-TA1 portable camera. It sounds like Panasonic is showing off some cool gear at IFA 2010.