Panasonic acquisition of Sanyo agreed for $6.4bn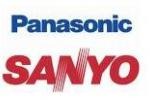 Panasonic's controlling-stake acquisition of Sanyo has been confirmed, in a deal that will see the company pay $6.4bn to stakeholders.  The deal, which was confirmed back in November but delayed after 29-percent Sanyo stakeholder Goldman Sachs refused Panasonic's earlier offers, will see the combined company take the number two spot in the league of Japanese electronics manufacturers, with Hitachi maintaining first place.
The planned offer is that Panasonic will pay around 131 Japanese yen ($1.50) per Sanyo share, a single yen increase on its offer last month.  Sanyo's shares closed down 1.4-percent at 141 yen at the news.  It will then hold around 70-percent of the company, a controlling stake.
Sanyo is the number one in rechargeable batteries, and it's presumably that expertise that Panasonic hopes to cash in on.  Despite the economic downturn that has affected the company's microchip business, the battery arm has been performing well.