Onkyo portable Ipod headphone uses 2.4GHZ uncompressed wireless transmission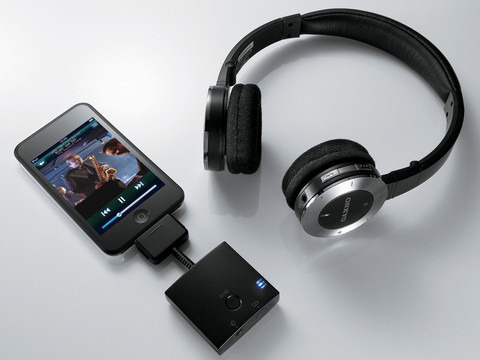 Audio snob, now you can listen to your Ipod with a portable and high-fidelity wireless stereo earphone system. Onkyo wants to preserve the originality of audio playback, unlike Bluetooth technology with compressed audio; their MHP-UW2 wireless system uses an uncompressed and robust 2.4Ghz digital connection, promises to deliver truly CD quality sound over the air.
The transmitter weights in 35 grams and is made compatible with Ipod classic, Touch, Nano and Mini and has audio inputs for other portable audio devices. The system draws its power from Lithium-ion batteries with ability to playback music for 8 hours of continuous use. Recharging takes 3 hours via conventional AC adaptor or USB. The weight of the headphone includes the batteries is about 105 grams. The Onkyo MHP-UW2 will be released in November for 20,00 yen ($200).
[via impress]