OnePlus X Ceramic edition launched with charity auction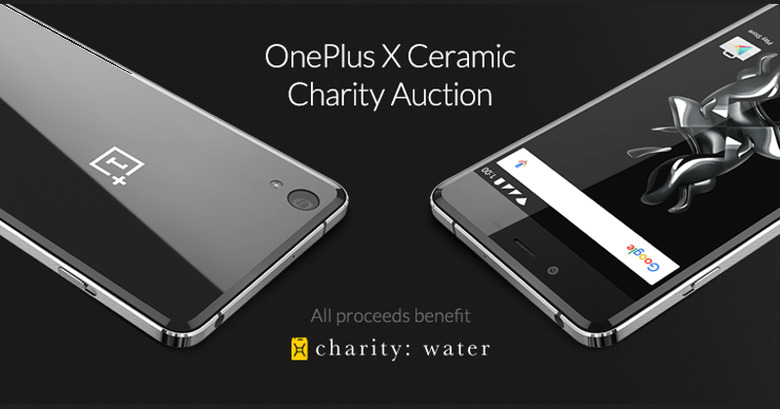 It's not all that unusual for OEMs to come out with limited special edition versions of their flagships. But when you consider that it's a small startup like OnePlus and that it's a not so flagship OnePlus X, then you might have reason to be a bit surprised. But that is exactly what the company is doing with a OnePlus X Ceramic edition. But it isn't doing it just for profit, at least not completely. It will be auctioning off five of the very limited number smartphones, with all proceeds going to charity: water.
The OnePlus X might not be your immediate choice for dressing up a smartphone in more than premium, luxurious coating. The 5.0-inch 1080p AMOLED display, Snapdragon 801, and 3 GB of RAM is just a small step higher than last year's OnePlus One. So it is puzzling that OnePlus didn't just go with the higher spec OnePlus 2. One plausible reason is to offset the costs of using zirconia ceramic in the build.
"Ceramic" might not inspire much confidence in durability, but "zirconia" definitely does. This super strong material is extremely difficult to work with, OnePlus says, but still managed to pass their quality tests. Considering the cost as well as the labor, OnePlus only made 10,000 such smartphones, which is just a wee bit more than the usual 1,000 units of really rare luxury devices.
Five OnePlus X Ceramic editions will be auctioned off for charity's sake. OnePlus chose charity: water, a non-profit organization that's focused on bringing clean, potable water to 663 million people around the globe, as the recipient of all proceeds from the auction. Those who will "win" the auction gets to take home one actual OnePlus X Ceramic edition. But in addition to that, they also get a physical invite to share with a friend, or buy another limited edition unit themselves.
The auction is hosted on eBay so works like any other eBay listing. The smartphones are seemingly priced at $700, which is almost thrice that of the normal version. Bidding starts at 0.99 and will last for only five days.
SOURCE: OnePlus