Olympus PEN Lite E-PL1s updates ISO & gets new, lightweight lens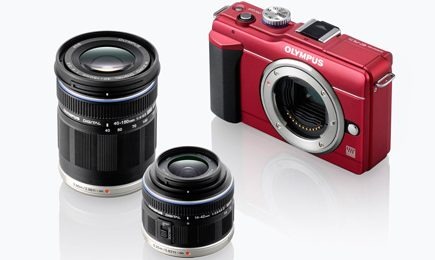 Olympus has given its Micro Four Thirds range a slight polish, in the shape of the updated Olympus PEN Lite E-PL1s. Still dubbed the world's lightest interchangeable lens camera, the new E-PL1s gets a mild spec tweak to support up to ISO 6400 (from 3200) and a new Lithium-Ion battery; more interestingly, there's a new lens, the M.ZUIKO DIGITAL 14-42mm F3.5-5.6 II, with which the PEN manages to be just 454g.
There are also three color options – white, red and black – but otherwise this is the same camera as before. That means you get a 12.3-megapixel sensor, SDHC memory card slot, built-in image stabilization and a 2.7-inch, 230k dot rear preview display; an external viewfinder is an optional accessory.
There are sample shots with the new lens here, and more specifications here. Olympus expect the new PEN Lite E-PL1s to go on sale in Japan come December 4, price tbd.
[Thanks Paul!]