Olympus debuts splashproof pro E-5 DSLR camera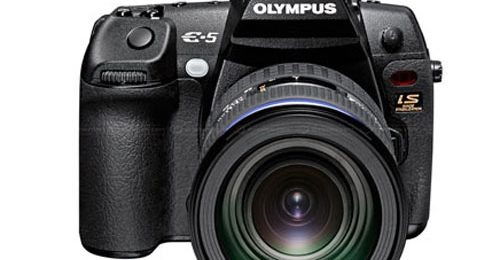 Olympus has unveiled a new professional level DSLR camera that is tough enough to survive lots of use outside and in. The camera is called the E-5 and it has some interesting new features like the first 100% digital specific lenses and a Supersonic Wave Filter Dust Reduction System. The most interesting feature for pros that do lots of outdoor shooting may be the fact that the camera body is splashproof and dustproof with magnesium alloy construction.
The big 3-inch rear LCD of the camera has 920K dot resolution and swivels 270-degrees with Live View for accurate composure of shots when the viewfinder isn't ideal. The sensor inside the camera is a 12.3MP unit with a TruePic V+ Image Processor. The E-5 can shoot HD video in 720p resolution at 30 frame per second. The E-5 also has a 3.5mm input for connecting microphones and the video shooting works with more than 20 four thirds lenses according to Olympus. The shutter mechanism has a life span of 150k exposures and the optical viewfinder on the camera has a 100% accurate view.
The camera has a multiple exposure function that allows the shooter to take photos in portrait or landscape modes and then combine four shots in real time or later. A internal digital level sensor is also included to ensure that shots are level for architecture photos and other uses. The E-5 also has HDMI output for connecting directly to a TV. Bursts of five frames per second can be shot and the shutter can release in as little as 1/8000 of a second. The camera will ship in October with the body only costing $1700.