Top Oil Filters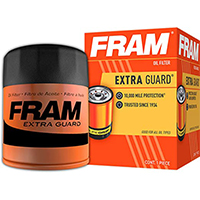 FRAM Extra Guard Spin-On Oil Filters
Pros
Affordable
Protection for up to 10,000 miles
95% efficient at 20+ microns
Additional styles available
Cons
Limited savings for buying in bulk
May not outlast synthetic oil
FRAM's spin-on oil filters are affordable, highly rated and reliable. These filters have a SureGrip anti-slip texture, making them easy to install. The filter media is constructed from resin and fibers to catch 95% of dirt. Customers frequently praise the product's efficiency, including reviewers who've tested the purity of oil samples to prove the filter's quality.
Individual Extra Guard filters are priced under $5 each on Amazon and work with conventional or synthetic oil. You can also purchase in bulk, and Tough Guard and Ulta Synthetic styles are also available for more money.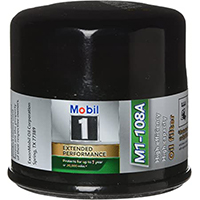 Mobil 1 Extended Performance Oil Filters
Pros
99%+ efficient at 30+ microns
Protection for up to 20,000 miles
Works with all oil types and brands
Synthetic filter media
Cons
More expensive than economy filters
Hard to compare efficiency
Mobil is a motor oil brand that has its own line of oil filters and other accessories. This Extended Performance oil filter lasts twice as long as many recommended oil change intervals. The heavy-duty canister is durable and can withstand up to nine times normal operating pressure. It uses a synthetic blend media to trap and hold more than 99% of dirt, but note that this rating is based on larger-than-standard particles.
Reviews of this product are overwhelmingly positive, with most customers expressing happiness with its durability, performance or price. At around $10 on Amazon, this filter is more affordable than many competitors, but it's not as cheap as many budget options.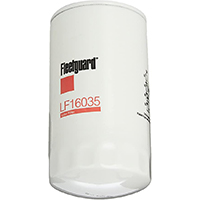 Cummins Filtration Fleetguard Oil Filters
Pros
StrataPore media
Easy to change with a wrench
100% efficient at 30 microns
Can reduce engine wear by over 60%
Cons
Diesel applications only
Expensive
For diesel drivers, Fleetguard oil filters from Cummins Filtration are a durable and effective replacement part. The filter media is multilayered, improving the filter's efficiency and life span. Due to the fluted shape of the can, this filter is easy to change with a wrench.
Customers report long life spans on both the oil filters and the trucks that use them. While these filters are more expensive than a car's oil filter, there are money-saving bulk purchase options available on Amazon.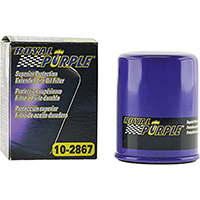 Royal Purple Oil Filters
Pros
Protection for up to 15,000 miles
99% efficiency at 25+ microns
Designed for synthetic oil
Microglass media
Cons
Doesn't work with conventional oil
Expensive
Royal Purple is a popular brand of motor oil and oil filters. When used with synthetic oil, this filter can last up to 15,000 miles. However, it's not compatible with non-synthetic oils.
While this filter is more expensive than some competitors, many purchasers state that it's well worth the price. Reviewers observe that it lasts a long time and efficiently filters out dirt. A single filter generally runs around $15 on Amazon.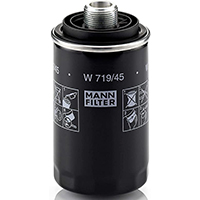 Mann-Filter Oil Filters
Pros
Built for high-output engines
Release aid for quick filter change
Durable filter housing
Original equipment fit
Cons
Limited product info
No published efficiency numbers
This Mann-Filter spin-on oil filter is designed for European luxury vehicles. It's easy to install and features a practical release aid. The canister itself is durable and corrosion-resistant.
Customers were pleased with both the price and the quality of these filters, frequently comparing them to the quality of original equipment. These filters usually cost between $10 and $12 per filter on Amazon.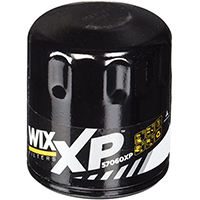 WIX XP Oil Filters (57060XP)
Pros
99% efficiency at 35 microns
Protection for up to 10,000 miles
Fully synthetic filter media
Ideal for harsh driving conditions
Cons
Hard to compare efficiency
May not outlast synthetic oil
WIX filters have many customers praising the materials used to create them. While this filter doesn't last as many miles as some competitors, it's marketed to withstand harsh driving conditions, like towing, mountainous climbs or long highway drives.
At the time of publishing, this filter costs about $13 on Amazon. However, it's worth noting that WIX's quoted efficiency numbers are at a size of 35 microns, the largest among any of our picks.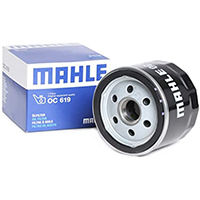 MAHLE Oil Filters
Pros
For use with motorcycles
Steel housing
Designed to OEM specifications
Embossed and pleated filter media
Cons
More expensive
Only works with specific motorcycles
MAHLE manufacturers oil filters for performance vehicles (including motorcycles). It uses embossed and pleated filter media and a structurally sound canister design. This oil filter is one of MAHLE's highest-rated products, with customers pointing out that these filters are more affordable than original parts with no reduction in quality.
A single filter costs around $15 on Amazon. Reviewers were pleased with how easy this filter is to install on BMW and Husqvarna motorcycles.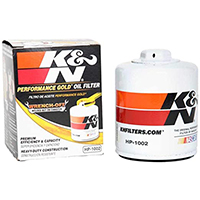 K&N Oil Filters
Pros
Works with all oil types
One-year limited warranty
Welded nut for wrench removal
95% efficient
Cons
Efficiency number lacks context
Difficult to remove without a wrench
This oil filter from K&N is built with DIYers in mind. It can be removed quickly and easily with a wrench, and it's designed to work with all synthetic, conventional and blended motor oils. Reviewers specifically praised the ease of installation, particularly in locations that are a tight fit.
This filter is competitively priced at around $12 on Amazon, but customers report finding higher prices in their local auto parts stores.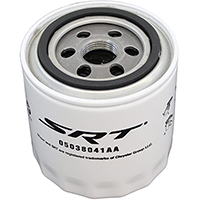 Genuine Mopar Oil Filters
Pros
Genuine OEM part
Designed for performance
Minimum 12-month warranty
100% fitment guarantee available
Cons
Limited applications
No published efficiency numbers
Mopar manufacturers OEM oil filters and parts for Chrysler, Dodge, Jeep, Ram and FIAT vehicles. The filter is designed for performance vehicles and has a high capacity for filtered dirt.
This filter typically costs around $14 on Amazon. Purchasers were pleased with the quality of the filter and its snug fit. If you confirm compatibility by submitting your VIN on the manufacturer's website, they have a 100% fitment guarantee.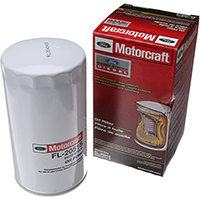 Motorcraft Oil Filters
Pros
OEM fitment
Fluted case for easy removal
80% efficiency at 20+ microns
Two-year limited warranty
Cons
Limited applications
Not as efficient as some competitors
Motorcraft oil filters are designed for use with Ford, Mercury and Lincoln vehicles. This filter has a large media area to filter out contaminants, and its pressure relief valves help ensure contaminated oil doesn't make it back into circulation. While its efficiency number may not seem impressive, the 80% figure is for relatively small particles.
One filter costs around $17 on Amazon. Customers are pleased with the predictable quality of the filters. Many expressed a higher degree of comfort in using products officially recommended by their vehicle's manufacturer.
How We Found the Best Oil Filters
To find the best oil filters on the market, we compared product reviews from over 24 products. Only products with a 4-star rating or higher made it past this initial review stage. We then evaluated factors like price, brand reputation and product quality to find reliable, cost-effective products.
Compare Top-Rated Oil Filters
Compare our picks based on reviews and pricing below.
| Brand | Part number | Star rating* | Starting cost* | |
| --- | --- | --- | --- | --- |
| FRAM | PH7317 | 4.8 | $3.88 | Shop now |
| Mobil 1 | M1-108A | 4.9 | $9.97 | Shop now |
| Cummins Filtration | LF16035 | 4.9 | $19.48 | Shop now |
| Royal Purple | 10-2867 | 4.8 | $14.99 | Shop now |
| Mann-Filter | W 719/45 | 4.8 | $11.99 | Shop now |
| WIX XP | 57060XP | 4.8 | $12.95 | Shop now |
| MAHLE | OC 619 | 4.9 | $15.93 | Shop now |
| K&N | HP-1002 | 4.8 | $12.33 | Shop now |
| Genuine Mopar | 5038041AA | 4.8 | $14.30 | Shop now |
| Motorcraft | FL2051S | 4.8 | $16.86 | Shop now |
*On Amazon, as of publishing date.
What to Know About Buying Oil Filters Online
Before you purchase an oil filter online, there are a few steps to take to ensure you're happy with your choice. Follow these steps to find the right oil filter for your car.
Find a well-reviewed oil filter from a brand you trust. While we recommend the oil filters on this list, you might consider doing extra research to find a filter that's specifically recommended for your vehicle.
Confirm that the oil filter's model number is compatible with your vehicle. In many cases, an online retailer like Amazon will offer a product-matching tool that confirms compatibility with your car's make, model and year. If no matching tool is available, do a quick search of the product's name and model number to see if you can find a list of applicable vehicles on the manufacturer's website.
Confirm that the oil filter is designed for the type of oil your car uses. Some filters are specifically designed for a particular type of oil, whether it's synthetic, conventional or semi-synthetic oil. For optimal performance, choose a filter that's compatible with your car's preferred oil weight and type.
Ensure you have all the tools required. Some filters can be loosened and tightened by hand, but others require the use of a wrench.
Bottom Line
Changing your own oil and oil filter is a great way to save money and learn hands-on car maintenance. These oil filters are highly rated and manufactured by trustworthy companies, allowing you to enjoy your vehicle as long as possible. If you're still unsure, read reviews for the filters above to see how other customers feel about them.
Frequently Asked Questions About Oil Filters
Oil filters typically range from about $4 to $20. Pricing depends on the brand, type and performance of the filter. In many cases, you can find bulk packages that will save you money per filter, though.
There are two main types of oil filters: primary and secondary. Primary oil filter designs include:
Full-flow filters
Cartridge filters
Conventional filters
Thermal chamber filters
Spin-on filters
Secondary oil filter designs include:
Spinner filters
Magnetic filters
Filters can also be constructed of different types of filter media, including cellulose, synthetic fibers and microglass.
Oil filters remove dirt and dust particles, debris and combustion residue that cause wear and tear in your engine. Stated efficiency ratings typically range from 95% to over 99%, but for a clear comparison, you should make sure ratings are for the similarly sized particles. The industry standard is supposedly 20 microns, but many manufacturers quote inflated numbers based on larger particles.
Manufacturers typically recommend changing your oil filter every time you change your oil, which is usually after about 5,000 to 15,000 miles. However, your oil filter may have a different recommendation. If you really want to be sure you're only replacing your filter when necessary, evaluate its condition when you change your oil or test the oil to see if it needs to be replaced.