Ohio High Schools Pit Robots In Basketball Competition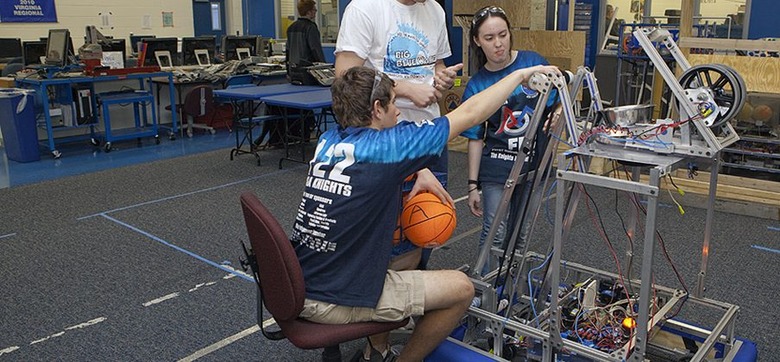 Ohio is a very spors-centric state. The Ohio State Buckeyes are one of the best college football teams in the country, and even though the Cleveland Browns, Cleveland Indians, and Cincinnati Bengels aren't the best, they have ardent fans and are among the most well-branded spors teams. But when it comes to basketball, Ohio has a deficit. So maybe it's time to stop looking for humans and see if robots can do the job.
At the Buckeye Regional FIRST Robotics Competition in Cleveland this weekend, teams from 60 high schools around the country will meet in a true battle of machine versus machine. In the competition, robots are built to play a game called Rebound Rumble, a form of basketball in which robots shoot as many balls as they can in rounds that last for two minutes and 15 seconds. Robots earn points for each shot that sinks through the net, with more points earned as the net is raised.
One of the teams' advisers, Kate Keckan, was quoted by local newspaper the Plain Dealer as saying, "It is an opportunity for students to take what they have learned in the classroom and apply it to building a robot for a competition and to work with professionals in the industry. We have 30 students on the team." While this kind of event won't have significant impacts on the advancements of robotic technology, it is cool to know that people as young as high school age are building such advanced devices.
[via Cleveland.com]