Offers from SuperTalent you can't refuse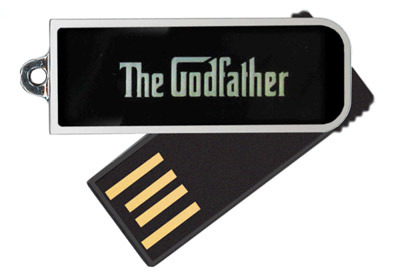 You can get thumb drives for dirt-cheap these days. Last time I purchased a pair of desktop memory, the manufacturer threw in a 2GB flash drive for free. Yeah, they are commodity items like the double A battery at the grocery checkout counter. But what you got are two-bit vanilla production; SuperTalent will soon market a Godfather imprinted USB drives for the gang of Don Corleones.
The company has reached an agreement with Paramount today to manufacture and market USB Flash drives with Godfathers' memorable quote and still photo materials. Oh no, the drives would not come pre-loaded with featured film, just a few memorable quotes like "Monday, Tuesday, Thursday, Wednesday, Friday, Sunday, Saturday" or "Leave the gun. Take the Cannoli." If you are a hardcore Corleone's fan, it's an offer you can't refuse.
Available in capacities up to 8GB, the first batch of the Godfather drives are expected to start shipping this month and more designs will ship in 2009.