OCZ Vertex 2 SSD Review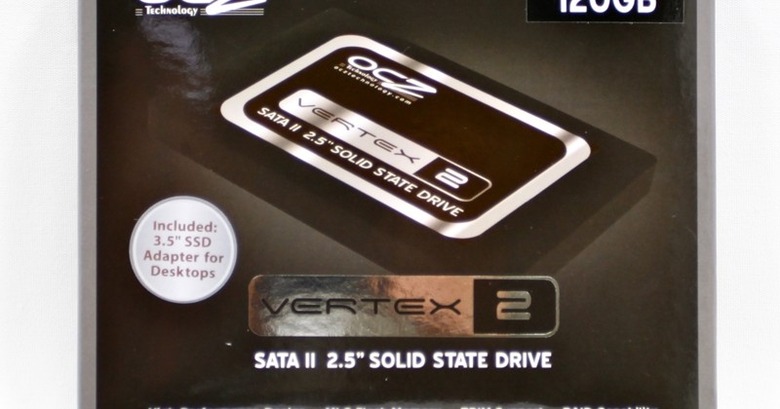 Fast, silent and power-efficient; it seems like the only thing not to like about SSDs is the price. OCZ has sent over its Vertex 2 SSD, a 120GB model that straddles the performance/price boundary at around $220. Check out the full SlashGear review after the cut.
Hardware
The OCZ Vertex 2 on our test bench is a 2.5-inch 120GB model weighing in at 77g and 9.5mm thick. In the retail box, OCZ bundles a 3.5-inch adapter bracket, for using the drive in a desktop rather than a notebook. Maximum speeds on the box are up to 285 MB/s read rate, 275 MB/s write rate and up to 250 MB/s sustained writes.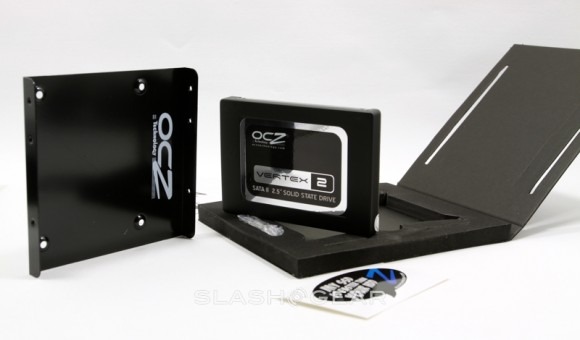 The Vertex 2 uses the well-esteemed SandForce SF-1200 controller, which has quickly moved to a strong position particularly among OS X users for whom the Mac OS lacks Windows' TRIM support. TRIM – which the Vertex 2 does support – is used by some platforms to notify not only the OS file system that a file has been deleted but the SSD itself; that means slightly slower deletes but less degradation of performance over time. Apple is yet to add TRIM support to OS X, but the SandForce controller works around that absence with its own "garbage collection" routines at the drive level.
One unfortunate side effect of the SandForce firmware initially used on the Vertex 2 is the amount of NAND memory set aside for over-provisioning leaving a grand total of 119.69GB left of usable storage space. This is used to boost overall write performance and reliability, the latter by replacing bad memory blocks from the reserved memory. On the original Vertex 2, a huge 28-percent of the memory was set aside; newer firmware has slimmed this down to just 13-percent.
Performance
We installed the Vertex 2 into a MacBook Pro running OS 10.6.5 and tested it using Xbench 1.3. In sequential write testing, the SSD managed 191.00 MB/sec with 4K blocks and 153.53 MB/sec with 256K blocks. In random write testing, it achieved 148.42 MB/sec with 4K blocks and 165.07 MB/sec with 256K blocks.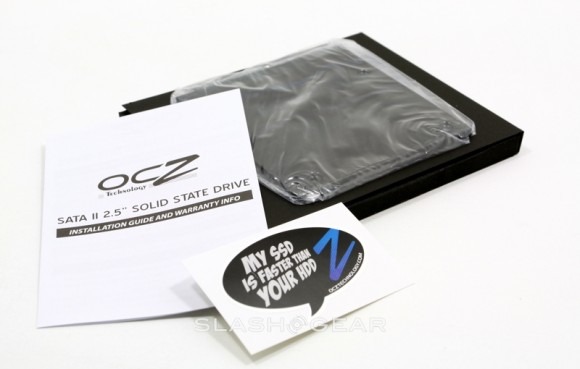 As for read rates, in sequential read tests the SSD scored 29.09 MB/sec with 4K blocks and 179.13 MB/sec with 256K blocks. Finally, in random read tests it managed 22.53 MB/sec with 4K blocks and 172.99 MB/sec with 256K blocks.
Compared to the Samsung 470 Series SSD we tested last month, the OCZ is generally stronger at random reads and writes, but slower at sequential read and writes.
Wrap-Up
As ever, when you're coming at an SSD from a HDD perspective, it's tough to argue with the speed increase and the sudden disappearance of noise and vibration from a spinning drive. However, not all SSDs are created equal, as the OCZ's benchmarks prove.
Samsung's 470 Series bests it on sequential performance, but the OCZ fights back with random performance; it's also cheaper, coming in at around $220 street price versus the 128GB Samsung's roughly $260. Given daily use is more likely to throw up random I/O with various cache files and other temporary documents, and the benefit of the SandForce controller, we'd opt for the OCZ in preference.