NYC residents may get free gigabit WiFi Internet kiosks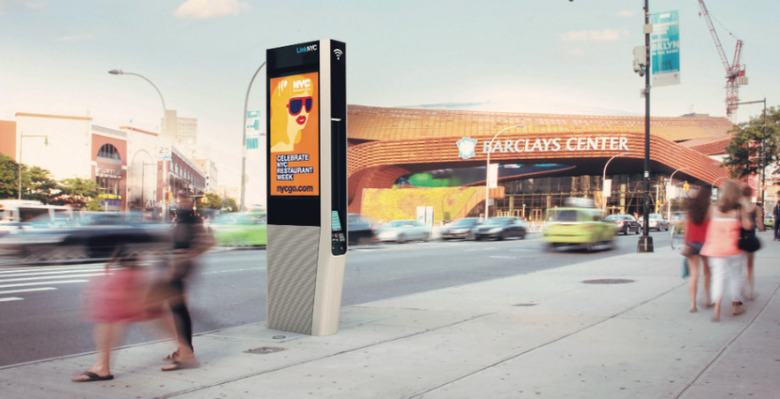 Free, city-wide WiFi already sounds like a pretty awesome thing, but Gigabit? If you're in New York City, that might be what you're getting. Today, city officials are unveiling an enterprising plan named LinkNYC, which will use kiosks placed throughout the city as WiFi hotspots. There will be as many as 10,000 of these kiosks placed throughout all five boroughs, and will bring free domestic voice calls to the US as well as Internet service. These WiFi hotspots could start to appear later next year.
The real draw? Gigabit Internet speeds in a 150-foot radius around the kiosks. Maybe even better? The city is replacing pay phone booths with these kiosks. The actual concept is from CityBridge, a collaborative effort from companies like Titan, which operates the largest payphone network in the US.
These "Link" kiosks aren't a courtesy, though. They'll display advertising, which the city assumes will bring in about $500 million over the next decade or so. The screens can also display info in emergency situations.
The Link kiosks will also be touch-enabled, and offer access to city services, as well as provide directions. They'll also work as a charging station for smartphones.
The cost to the people of New York? Nothing! The Mayor's office says as many as 20% of New Yorkers rely on smartphones for Internet service. They'd like to change that.
The plan is still conceptual, but seems to hit all the right notes. If the city moves forward with LinkNYC — and it seems as though they will — 100-150 new, full-time jobs will be created, as well as 650 support positions.
Source: LinkNYC
Via: Re/Code