NVIDIA Tegra 4 "Wayne" leak tips 72 GPU cores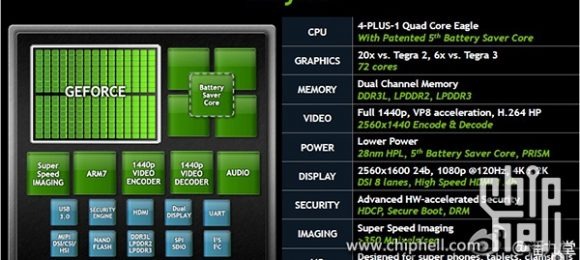 A leaked slide purportedly detailing NVIDIA's next-gen "Wayne" Tegra chipset has emerged, tipping a significant increase in graphics cores as well as a boost in mobile security provisions. The slide, shared on Chinese forum Chiphell, suggests the quadcore chipset will use NVIDIA's 4-PLUS-1 architecture as on the Tegra 3, paired with 72 GPU cores and support for 2560 x 1600 displays.
The specific type of cores themselves that NVIDIA plans to use in Wayne aren't specified, though previous Tegra 4 leaks indicated that it would be a quartet of ARM A15 cores doing the heavy lifting. They'll be joined by a fifth "battery saver core" that can be used for low-power duties rather than waking up the main CPU.
It's the graphics jump that might be most impressive, however, with the Tegra 4 having 20x the number of GPU cores as the Tegra 2 and 6x as many as the Tegra 3, according to the slide. That's good for 1440p encoding and decoding (2560 x 1440), while Wayne can also drive a 2560 x 1600 24b or 4K display on whatever device it slots inside.
Hardware-accelerated security features apparently include Secure Boot, h/w DRM, and HDCP, and there's support for USB 3.0 and a high-performance imaging chip. Dual-channel DDR3L memory support rounds things out.
NVIDIA confirmed the "Wayne" codename back in February 2011, when it first publicly discussed Kal-El, the chipset that later went on to be known as Tegra 3. The nomenclature borrows the names of famous superhero characters, Wayne being a nod to Batman's Bruce Wayne. It will be followed by "Logan" and "Stark."
It's not clear whether the slide is authentic, but the specifications do fit in with whispers of what NVIDIA has planned for the new Tegra in 2013. Going by previous leaks, the first new chips could arrive as early as Q1, though other variants won't follow until Q3. We're likely to see more at CES 2013 next month.
[via MobileGeeks]