NVIDIA Ion 2 GPU for Pine Trail confirmed for Q1 2010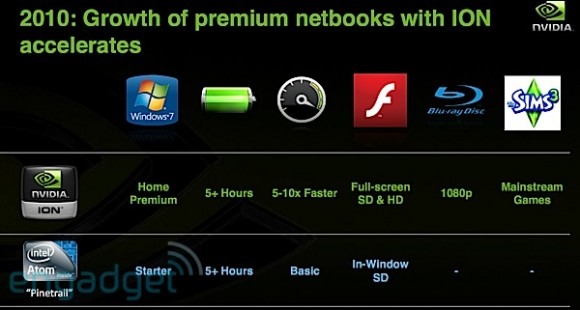 NVIDIA haven't held back recently with their Ion 2 news, but it's good to see the company reconfirming their plans to launch a Pine Trail-compatible version of the graphics chipset and attach a date to its roll-out.  As we heard before, the new Ion 2 for Intel Pine Trail will be a standalone GPU rather than the combined Northbridge/GPU chipset as offered for the current Intel Atom models, and it's arriving in Q1 2010.
Considering Pine Trail chips are already showing up in new netbooks, and Intel have officially announced them, we're expecting NVIDIA to push the new Ion 2 GPUs out earlier in the next quarter than later.  As before, NVIDIA are promising full-screen HD and 1080p Blu-ray support from their graphics processor, together with the power to play mainstream games on netbook hardware.