NVIDIA GeForce GTX Battlebox aims for 4K screens and highest-end gaming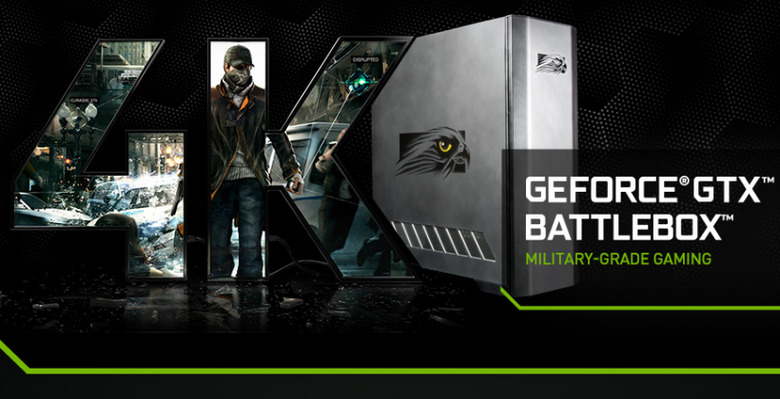 Always aiming to be the best of the best in gaming, NVIDIA has revealed their intentions for the upcoming holiday season with a set of tower builds going by the name GeForce GTX Battlebox. Several manufacturers of custom-made gaming PCs are onboard, including Falcon Northwest, Digital Storm, Maingear, and Origin. Each monster build in the GTX Battlebox program represents a new generation in gaming machines aimed directly at what NVIDIA describes as "this Holiday's AAA, combat-focused games", made to play these games "at super high resolutions, at high settings and [with] every NVIDIA-exclusive feature enabled."
A shortlist of games that are on NVIDIA's must-play list here includes Watch Dogs, Assassin's Creed IV: Black Flag, Call of Duty: Ghosts, and Batman: Arkham Origins. These games will be ready for 4K gaming and NVIDIA will be ready to bring them to the show. According to NVIDIA, each of these games will be delivered on the Battlebox hardware will full-on optimization with NVIDIA's diverse collection of unique graphics features.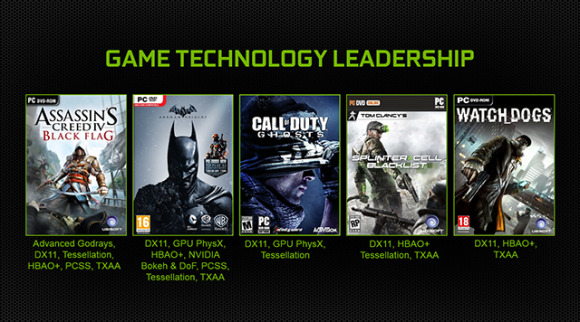 "For example, Batman: Arkham Origins features console-destroying graphics, advanced GPU-accelerated NVIDIA PhysX effects, DirectX 11 Tessellation, NVIDIA HBAO+ Ambient Occlusion, NVIDIA TXAA anti-aliasing, NVIDIA Bokeh and Depth of Field, and NVIDIA Percentage-Closer Soft Shadows.

Assassin's Creed IV: Black Flag has graphics better than those of any next-gen console, plus Tessellation, HBAO+, PCSS, TXAA, and advanced Godrays. Call of Duty: Ghosts has the best graphics of any system, bolstered by DX11, PhysX, and Tessellation. And the massively anticipated Watch Dogs has better-than-next-gen graphics, backed by HBAO+ and TXAA."
To be an NVIDIA Battlebox, a PC must work with GeForce GTX 780 GPUs in 2 and 3-Way SLI configurations, for starters. They're all working with overclocked Intel Haswell i5 and i7 CPUs, kicked up into gear with high-speed DDR3 RAM, and work with both advanced cooling systems and the newest in new high-speed SSDs. These machines are ready to roll with 4K monitors – those with 3840 x 2160 pixel panels brought up to their full potential with NVIDIA's GeForce GTX SLI system.
To connect the family of GeForce GTX graphics cards you're going to be rolling with, NVIDIA will be releasing their new SLI bridge. This beast of a piece of hardware works with NVIDIA's own illuminated GeForce GTX Claw Logo lit up to the same intensity as the GeForce GTX text on the GPU set you'll be working with – glowy!
With the Battlebox push, boutique builders will be bringing up the likes of the ASUS 31.5-inch 4K monitor PQ321Q for sale alonside "a host of new models to choose from in the near future." As this ASUS monitor is the only real consumer-level 4K panel on the market today for builds like these, we're expecting a fabulous new set from other manufacturers sooner than later.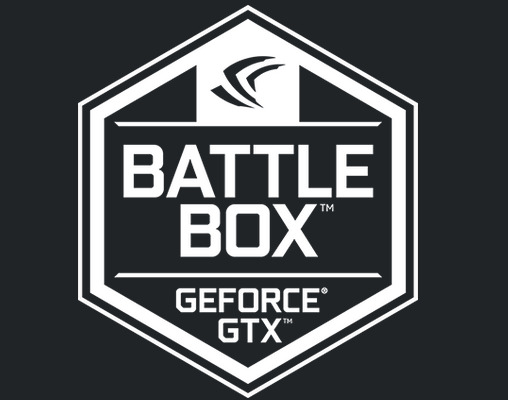 Models in this collection include the Falcon Northwest Mach V, the Digital Storm Aventum II, Maingear SHIFT, and Origin Genesis. While you may have glanced upon one or more of these casings in the past, each of these custom-build PC creators is bringing a brand new model optimized with NVIDIA technology ready for the end of the year.
We'll see these systems up close and personal sooner than later. Until then, have a look at our recent chat with NVIDIA about SteamOS, our most recent review with a system from one of these manufacturers in the Falcon Northwest Tiki, and let us know how massive you're willing to let your gaming PC get!