Nuforce Icon Mobile headphone amp & USB DAC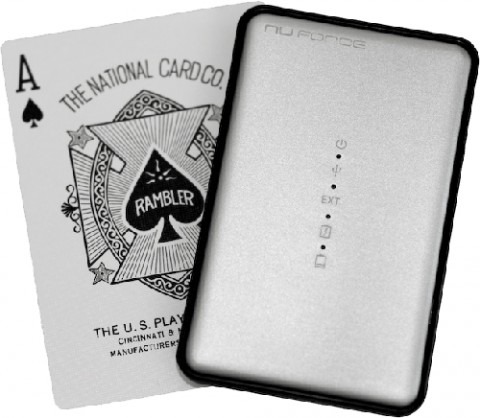 Nuforce's Icon Mobile is a headphone amp with a difference.  Like most of its ilk, it starts with offering headphone amplification – in this case twin 80mW at 16-Ohm, with a signal to noise ratio of 0.054-percent at 25 mW, 1 kHz – for your PMP, though here to the Icon Mobile offers dual outputs rather than the traditional one.  However it then includes USB DAC functionality, connecting to your laptop via USB and bypassing its audio outputs.
You also get a microphone input, suitable for Skyping, but also musical use thanks to 44.1kHz and 48kHz native sampling rates.  Switchable gain lets you drive power-hungry or more efficient headphones and speakers, and you'll eke extra runtime out of your PMP by not overly forcing its headphone output.
The whole thing is powered by a rechargeable Li-Ion battery good for up to 13 hours of use from a 2.5 hour charge.  Nuforce even throw in a stretchy silicone band, so you can strap the amp to your iPod (or your arm, if you have a thin arm and don't mind minor circulation reduction).  It's available now, priced at $99.
[via Red Ferret Journal]