NudeAudio unveils Move S, L, and M simplistic speakers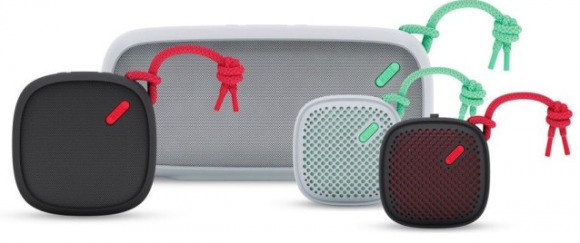 NudeAudio is a little-known start-up company from San Francisco that is offering four speakers with hyper-simplistic design and, oddly enough, a corded handle of sorts coming out the top right corner. There are both Bluetooth and wired speakers being offered, as well as one speaker that has dual microphones on board.
The Move S is the smallest speaker offered by the start up, and it is available in both wired and wireless flavors, with the wired version having a standard 3.5mm audio cable and the wireless model having Bluetooth connectivity. The speaker is small enough to be palmed or carried in a pocket, and offers 8 hours of battery life for those using Bluetooth.
The Move M is larger than the Move S, and features a boost in sound quality to match. NudeAudio says the bass-to-size ratio offers "the biggest bang for your buck," and works wirelessly with Bluetooth connectivity. The device is said to be about the size and shape of the average wallet, and offers 8 hours of audio playback from any device that supports Bluetooth music streaming.
Finally, there's the Move L, which NudeAudio calls the "big daddy" of its speaker line. The speaker is rectangular and large, though still small enough to be carried with a hand. As with the other two models, this one features an 8 hour battery life and Bluetooth connectivity, as well as two drivers and a passive subwoofer.
NudeAudio isn't entirely clear on whether the speakers are available for purchase now, with its website showing the speakers and their packaging alongside a price and specifications, but no way to purchase them from the website. The Move S with Bluetooth is priced at $50, while the non-Bluetooth model is priced at $30. The Move M is priced at $70, and the Move L – biggest of them all – is priced at $100.
SOURCE: Cult of Mac