NU Dolphin MP3 Player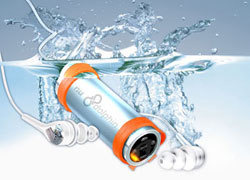 Just this morning someone asked me if I wanted a waterproof bag for my MP3 player, I said no, that I had no use for it, they asked me if I ever took my Touch in the shower with me, and I laughed and said no. I really didn't think that people actually had any interest in taking their music in the water with them.
Apparently they do though, as the NU Dolphin is 1GB worth of MP3 player and is made to go underwater with you. A charge will last you 8 hours of underwater goodness.
It will play MP3 and WMA and the tracks are uploaded via USB, which I assume is covered with a rubber water-tight seal. The earphones look to lock into your ear to keep water out, and they screw into the MP3 player to keep that connection water free. The controls are on the side of the scuba tank shaped MP3 player and I assume those are waterproof as well. For a mere £69.99 you can get your wet a slippery groove on.
NU Dolphin 1GB MP3 player – music while you swim [via techdigest]