Novatel Mobile Hotspot patent opens door to MiFi legal firestorm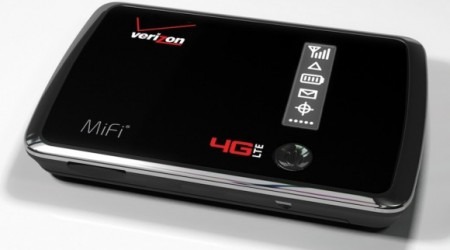 Novatel Wireless has clinched a mobile hotspot patent which could usher in the next round of legal battles between it and MiFi-making rivals. The patent, "Systems and methods for automatic connection with a wireless network," details the way in which a mobile hotspot automatically hooks up to a cellular data connection and pre-associated WiFi clients, bridging one to the other.
As you can tell, that's a pretty basic set of features Novatel has now claimed control over: there isn't a mobile hotspot out there which doesn't do the same. It's unclear at this stage whether the patent would also cover software hotspot functionality, increasingly popular on Android and iOS smartphones at present, where the cellular connection of a phone is shared via the handset's WiFi radio.
Novatel sued ZTE and Franklin Wireless back in December over alleged mobile hotspot patent infringement, and has also had trademark run-ins over use of the "MiFi" name. This latest patent looks like to prompt another round of litigation, with Novatel maintaining that it created the mobile hotspot category.
Update: We asked Novatel Wireless about the possibility of the patent covering software hotspots, and CMO Rob Hadley gave us the following statement:
"We expect this pioneering patent may apply most directly to hardware mobile hotspots. Architectures vary between both hardware and software hotspots so practically speaking, it would take further investigation to determine the patent overlap with software hotspots."
[Thanks George!]
Press Release:
Novatel Wireless Granted Key Patent on Intelligent Mobile Hotspot Products

SAN DIEGO, June 2, 2011 /PRNewswire/ — Novatel Wireless, Inc. (Nasdaq: NVTL), a leading provider of wireless broadband access solutions, today announced that it has been granted U.S. Patent No. 7,944,901 entitled "Systems and methods for automatic connection with a wireless network," a core invention that Intelligent Mobile HotSpot products currently make use of. The patent was issued on May 17th 2011 by the United States Patent and Trademark Office.

"We are very pleased to receive this pioneer patent for the Intelligent Mobile Hotspot, a product category Novatel Wireless invented more than two years ago," said CTO of Novatel Wireless, Dr. Slim Souissi. "We continue to expand our leadership with our 3G and 4G MiFi® family of products and this patent further strengthens our IPR portfolio and illustrates our commitment to on-going research and innovation in the wireless industry," Dr. Souissi continued.

Novatel Wireless currently holds 35 issued or allowed U.S. patents and 34 filed U.S. patent applications, some of which it holds or has filed for in additional patent jurisdictions as well.