Novatel MiFi adds Eye-Fi, Cloud backup and VPN apps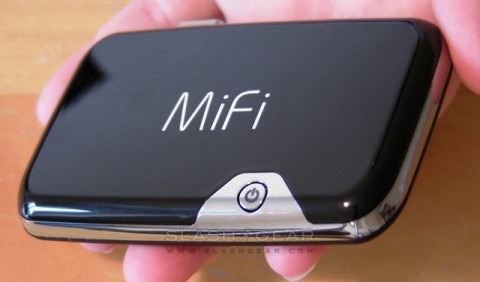 Novatel Wireless have announced the first round of applications which will be offered on its MiFi Intelligent Mobile Hotspot, including photo uploads, NAS-style network drive functionality, and VPN support.  The apps – which are produced by developer partners Eye-Fi, Nomadesk and Alcatel-Lucent respectively – will run on the applications processor found in the European MiFi 2352 (which we reviewed back in June) and the MiFi 2372 which will offer AT&T and Rogers Wireless HSPA.
A further version will support T-Mobile USA's 3G bands.  However, the existing MiFi 2200 available on Sprint and Verizon will not support the applications, as those models lack the app processor and memory found in the 2352/2372.
As for functionality, that has not been fully detailed but Nomadesk's app will not only allow WiFi-connected users to access files stored on a memory card inserted into the MiFi's microSD slot, but sync with cloud-based storage, while Alcatel-Lucent's app provides a standalone business security suite with automatic patches and anti-virus updates.  Eye-Fi's software, meanwhile, is expected to offer image uploads to various online galleries.  Novatel have previously described to us a situation where images could be sent from a digital camera to the MiFi, stored on its memory card (leaving you fresh room on the camera itself for more shots), then automatically resized and the edited images uploaded to an online gallery; meanwhile the full-resolution shots would be kept on the MiFi itself, saving on your included data bundle in the process.
While Eye-Fi's SD cards offer some of that functionality, and will in fact work with a MiFi as a simple WiFi-enabled 3G connection, the MiFi software would allow you to offload content from your camera even without a 3G connection.  Then the MiFi would automatically upload the shots when it next goes online.
Future applications for MiFi might download a local copy of email, RSS and other news, for reading when you don't necessarily have a wireless connection.  The MiFi is also – with the right software – capable of pinging a WiFi-connected device to alert it to new information, in the manner of push email.  Novatel Wireless kicked off their MiFi Developer Program back in July.
Press Release:
Novatel Wireless Introduces Second Phase of MiFi™ Developer Program

Intelligent Platform Enables Innovative Applications and Increased Value

SAN DIEGO – Oct. 6, 2009 – Novatel Wireless, Inc., (Nasdaq:NVTL), a leading provider of wireless broadband access solutions, today announced the second phase of the MiFi Developer Program. Available to select software developers and enterprise customers through the Novatel Developer's Lounge, the MiFi Developer Program provides a rich set of application programming interfaces (APIs), detailed programming guides and technical support for the creation of value-added software applications on the MiFi platform.

Leveraging MiFi's ample storage capacity, processing power, and GPS capability, software developers will be able to deliver innovative mobile applications for both consumers and the enterprise. One such Novatel partner is leveraging the MiFi SDK to develop an intelligent file management, sharing, and storage application offered through MiFi's Web UI. The application provides access to local files, the SD card, and cloud storage, as well as several unique user options for file sharing, synch and security.

"With this expansion of the MiFi Developer Program, we will be working with a select number of developer partners to bring additional applications and value to the intelligent MiFi platform. Supporting our partners in the development community is key, so this phase of expansion will give us greater exposure to developer requirements," said Rob Hadley, CMO, Novatel Wireless.

For more on the Novatel Developer's Lounge visit:

http://www.novatelwireless.com/index.php?option=com_content&view=article&id=219&Itemid=545